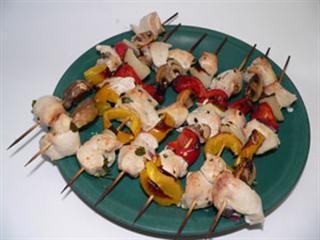 To make chicken souvlakia for four hungry diners, you will need:
Four large chicken breasts
4 sweet peppers
3 red onions
250g button mushrooms
1 bag or punnet of cherry tomatoes
¾ cup extra virgin olive oil
1 lemon
2 cloves of garlic
1 sprig oregano
Generous handful of fresh Italian flat-leafed parsley
Salt and coarsely ground black pepper on demand
Fresh green herbs for garnish
This is two-day cooking experience, with day one for the marinade and day two for cooking and eating. Peel and thinly slice one of the onions, crush, peel and finely chop the garlic, coarsely chop the Italian flat-leafed parsley and the fresh origano. Squeeze the lemon and measure two tablespoons of the juice. Place all these ingredients in a flat dish and pour in the extra virgin olive oil. Mix well.
Skin and debone the chicken breasts. Cut the fillets into mouth sized chunks and add them to the marinade. Stir to ensure that all chicken surfaces are coated. Cover the marinade dish and place in the refrigerator overnight. A couple of stirs from time to time will enhance the penetration of the flavours of the marinade. Cut the depipped sweet peppers into 30mm squares or circles. Peel the two remaining onions and cut them into generous chunks.
If the mushrooms are small, leave them whole, otherwise remove the caps from the stems. Buy wooden, single-use skewers from the local supermarket. Back home, soak these for a couple of hours on the second day of souvlakia cooking.
As an organic alternative – replace the store-bought skewers with fresh rosemary twigs. It's a splendid addition to the general flavour and an often used substitute in our kitchen.
Assuming you are using store-bought wooden skewers, remove these from their lengthy soak in clean water. Loading the skewers is no big deal. Just be sure to alternate vegetables and chicken meat. Sometimes, purely for looks, I begin and end each skewer with a cherry tomato. Arrange the loaded skewers on a baking sheet or inside a large baking pan, taking care that they do not overlap.
Drizzle a little of the marinade over them then season lightly with salt and freshly ground black pepper. Use the grill in the oven or braai these over hot coals. Grilling in the oven should take five minutes a side with the souvlakia turned once. They are ready when the chicken is cooked right through. Serve at once with a crisp green salad. A chilled dry white wine goes well with this meal, while a couple of ultra-cold Windhoek lagers are impossible to beat.
Contact David Basckin at [email protected]. Please state 'Real cooking' in the subject line of your email.