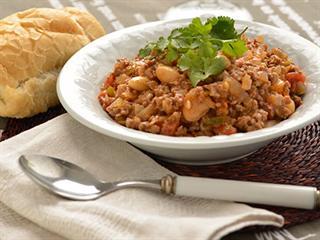 To make an outstanding chilli con carne for four flame-resistant diners, you will need:
600g best quality beef mince

1 can of tomatoes

2 sachets of tomato concentrate

1 tablespoon brown sugar 

1 can of white beans

250ml beef stock

2 large red chillies

4 cloves of garlic

2 onions

3 teaspoons of freshly ground cumin

A couple of sprigs 

of fresh coriander

Sunflower or canola oil

Salt and freshly ground black pepper to taste
Let's begin at the beginning: chilli con carne, despite coriander, chillies, garlic and cumin, is not a curry. What we've got here is a co-opted Mexican classic, passed through a thousand cookbooks and eaten with pleasure wherever men are fully in charge of the kitchen. If you're cooking over a fire, use a large cast iron pot with a lid. If you're at the hob in your kitchen, a large lidded frying pan will do.
Begin by peeling and chopping the garlic, peeling and thinly slicing the onions, and making your careful decisions about the chillies. This meal is meant to be hot, so don't remove the chillie pips. As a sop to civilisation, I have limited the chillies to two. Add more if you like. Alternatively, allow individual diners to rev up the meal with Tabasco sauce.
Sweat the chopped chillies, onions and garlic in two tablespoons of sunflower or canola oil until the onions have become soft and glassy. Keep a sharp eye on proceedings to avoid burning. When done, remove them from the pan and reserve under cover for later. Return the frying pan and its residual cooking oil to the hob and add the minced beef. Keep the meat moving while it browns, taking care to ensure that all the meat gets evenly browned at this preliminary stage.
Next, lower the temperature to a medium simmer and return the cooked onion, garlic and chilli to the pan with the meat. Stir it in with the cumin. Add the canned tomatoes, tomato concentrate and drained white beans. Stir these in, with the brown sugar as an antidote to the acidity of the tomatoes. Add the beef stock, which could be freshly made but will taste almost as good if you use a high quality stock cube or two. Bring this up to a boil, then immediately reduce to a simmer.
Replace the lid and let the simmer continue for 10 minutes or so. At this point, add a little salt and a lot of coarsely ground black pepper, then serve garnished with a couple of leaves of coriander. This meal is moist and goes well with rice, mashed potato, soft rolls or crusty baguettes. A heavy duty red like a Shiraz turns on all the lights.
Enjoy.