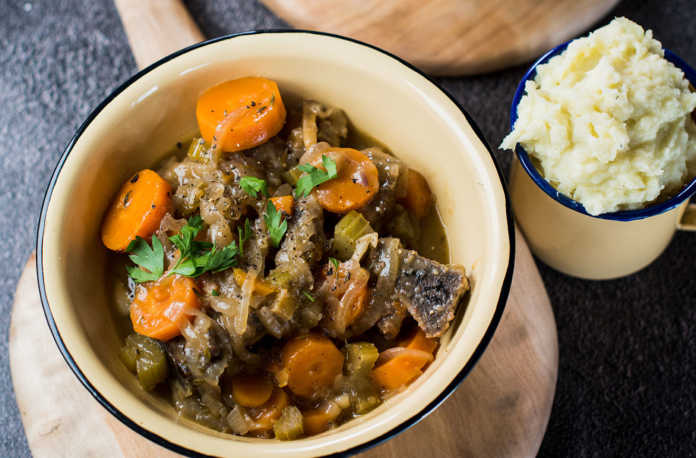 To make a truly great beef stew for six lucky diners, you will need:
6 sections of beef shin, bone in and marrow in place
1kg of beef chuck
500ml of beef or chicken stock
500ml of white wine
25ml to 50ml of brandy
5 cloves of garlic
3 carrots
5 celery sticks
2 large red onions
2 tablespoons each of freshly picked parsley and origanum
Coarse salt and coarsely ground black pepper
Plain flour, butter, and extra virgin olive oil
1 Choose the best stock powder or cubes you can source at your supermarket.
2 Prepare the chuck by cutting the meat into cubes of about 30mm x 30mm x 30mm. Thinly peel and slice the onions before peeling and chopping the garlic. Then cube the carrots and roughly chop the celery. Set aside.
3 Combine a cup of flour with a tablespoon each of crushed coarse salt and freshly ground black pepper. Coat the chuck cubes and shin. Knock off any excess.
4 Select a heavy-based frying pan, pour in two tablespoons of olive oil, and bring this up to medium heat. Cook the onions and garlic until the onions are reduced to a translucent hash. Remove from the pan and set aside.
5 Add a little extra olive oil to the frying pan, as well as a generous tablespoon of butter. Again over medium heat, brown the cubes of chuck, remove, and reserve under cover.
6 Fry the shin in the same frying pan for two minutes a side, turning once. Then pour the contents of the frying pan into an ovenproof casserole dish. Drop the heat, then pour in the stock, the cooked garlic and onions, the white wine, the brandy, and the carrots and celery. Fit the lid, and allow to simmer on the hob for 90 minutes.
Remember to check the concoction from time to time to ensure it doesn't burn.
7 Now add the cubed chuck and sprigs of origanum, and allow to simmer for another 20 minutes.
8 Remove from the heat, pour in a cup of chopped parsley, adjust the seasoning, stir gently, and serve with plain white rice or mashed sweet potatoes.
What a meal! So good for the emotions.
David Basckin is a freelance journalist and videographer.