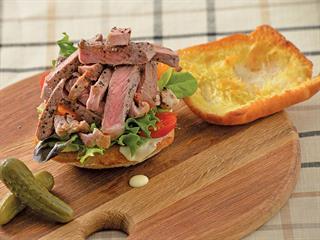 To make the ultimate steak sandwich for 3 or 4 diners, you will need:

500g porterhouse steak in one piece
Tomatoes
Capers
English cucumbers
Pickled cucumbers
Mayonnaise
Tabasco
Spring onions


Fresh bread
Why consider sandwiches? Well, for at least two good reasons. You can say goodbye to large-scale washing up, and you can say hello to spreading the joys of foodmaking to every diner at your table. DIY cuisine has a heck of a lot going for it, not least the sense of fellowship and good times that inevitably follow the meal.
We begin with the bread. Rolls or bagels are the best way to start, as they come in single servings, ready to be eaten. Next, the vegetable preparation. Slice the reddest tomatoes you can find, English cucumbers, pickled cucumbers, and chives or spring onions. Provide capers and Tabasco sauce, plus the mayonnaise of your choice.The steak is the big deal. Begin by rubbing freshly chopped garlic and coarsely ground black pepper over the surfaces of the single piece of porterhouse.
Leave this on the counter in a clingwrap-covered container for an hour or so to reach room temperature. This is essential as the cooking times are chosen to produce a tasty slice of rare steak, ideally without a fridge temperature interior. Time to apply heat to the meat. Select a large frying pan with a fitted lid. Place this unlidded on the hob and bring it up to medium heat. Put the single chunk of porterhouse in the pan, fat-side down.
Keeping a careful eye on proceedings, allow this position to be held for a minute at least to begin the process of fat rendering. The idea here – and an excellent one it is too – is to use the rendered fat of the steak as the sole fat or oil source. Move the steak around in its own fat to promote the process for another minute or 90 seconds. Flip the porterhouse and cook it in the freshly rendered fat for six minutes, turning it every 30 seconds.
Busy work, I know, but more than worth the trouble.
Remove the frying pan from the heat, fit the lid and let it stand for two minutes. Remove the meat from the pan and place it on a chopping board to rest for a minute or so before cutting it into thin slices. Invite the diners to the table and let them get on with the business of bespoke sandwich design. There's no limit to the extras a good host can provide. Maximalists will pile everything possible onto the rolls.
In my view, moderation will allow the best item – the carefully cooked rare porterhouse – to dominate. See the additions as accents to enhance the flavour of the steak, not to blast it out of your taste range. Aesthetes will find an icy, crisp pilsener the best possible companion for this classic dining experience.