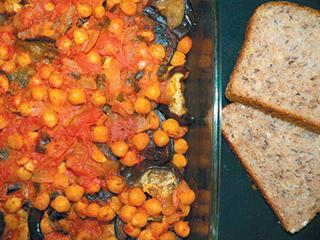 To make chickpea, brinjal & tomato bake for four diners, you will need:
2 generous brinjals
1 can of chickpeas
1can of whole tomatoes
2 sachets tomato concentrate
2 onions
3 cloves of garlic
20mm whole cinnamon bark
1 teaspoon brown sugar
Ten fresh basil leaves
2 sprigs of parsley
Salt, pepper, extra-virgin olive oil on demand
Rev up your oven to 220ºC. WHILE it is warming up, top and tail the brinjals, then cut each one up into slices 10mm thick. Select a baking sheet and cover it with a sheet of aluminium foil. Distribute two to three tablespoons of extra-virgin olive oil over the aluminium foil, then arrange the slices of brinjal on it. Spread a few drops of extra-virgin olive oil over the tops of each slice and sprinkle a very little salt over each one.
Stick this into the oven for 15 minutes or so, until the brinjal slices are lightly browned. Remove from the oven and make a parcel of the aluminium foil, with the brinjal slices within. This will trap the residual heat and allow the slices to continue to cook passively for 20 minutes. Adjust the oven to 180ºC.
Next, chop the canned tomatoes, thinly slice the onions and crush, peel and mince the garlic. By hand, break up the cinnamon sticks into small pieces. Examine the fresh basil and remove all forms of insect or mollusc life. Finely chop the leaves. Do the same with the parsley. Heat a little extra-virgin olive oil in a heavy-bottomed frying pan and sweat the onions and garlic until the former are soft and golden. Pour in the chopped, canned tomatoes, the tomato concentrate, the teaspoon of brown sugar, the bits of cinnamon bark, the nunu-free basil and the parsely.
Note that the sugar serves to cut the potential acidity of the tomatoes. Stir, while bringing the contents to a gentle simmer. Let this continue until the liquid has reduced and thickened. Drain the canned chickpeas then add them to the mix. Season to taste with salt and pepper.
Select a rectangular oven dish. Lightly oil the interior, then pour in a couple of tablespoons of the tomato-based mixture. Onto this lay half the cooked brinjal slices, then add half the remainder of the chickpea and tomato sauce. Repeat the layering process, then stick the dish in the preheated oven for as long as it takes for the liquid to bubble. Remove, let it cool, then serve. This magnificent combination of tastes and textures is just as good cold. Like most spiced foods, the flavours mature over 24 hours.