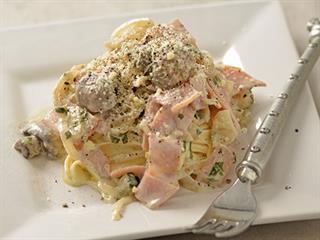 To make this meal for four, you will need:
500g fettuccine pasta
500g brown mushrooms
250g hickory-smoked ham or black forest ham
250ml cream
100g Parmesan cheese
2 cloves garlic
2 medium onions
Ground nutmeg
10 fresh basil leaves
Extra virgin olive oil
Salt and freshly ground black pepper to taste
150ml dry white wine
If you were making this meal in Italy, chances are the pasta would be home-made. This is no big deal, even for the beginner. But if pasta is not a staple in your home, stick with the ready-made product. Fettuccine comes in long, flat strips that look perfect with this sauce, but any pasta will do. We begin with the mushrooms. Buy the large brown variety, remove any substrate, and cut the tops and stems into large chunks.
Crush, peel and mince the garlic. Peel and thinly slice the two onions. Pour enough olive oil into a frying pan to just cover the bottom and bring this up to medium heat. Add the garlic and onions and let these slowly fry until the onions are soft and golden, stirring from time to time. As soon as the mixture is done, add the mushrooms, with a little extra olive oil if needed. Fit the lid and let the mushrooms cook for a few minutes, then pour in the cream. For a denser finish, use double-thick cream; just cut the quantity to 200ml.
Now the basil. Remove all signs of insect life and chop finely (the leaves, that is, not the insects). Cut the smoked ham into strips 10mm wide and add these with the basil leaves to the pan. Stir gently into the mix, taking some care not to break up the strips of ham. Nutmeg time. A generous pinch or two will enhance this mushroom-based sauce. If you don't care for nutmeg, though, feel free to leave it out. It's not essential.
Give the sauce one last stir, fit the lid and remove the pan from the hob. Cook the pasta in rapidly boiling, lightly salted water, then drain and immediately serve on warmed plates. Pour a half cup or so of the mushroom, ham and cream sauce over the steaming pasta. Sprinkle a little freshly ground parmesan cheese over the top and serve. But what about the 150ml of dry white wine, I hear you ask? Pour this into a glass and drink it. Believe me, brothers, you deserve it.