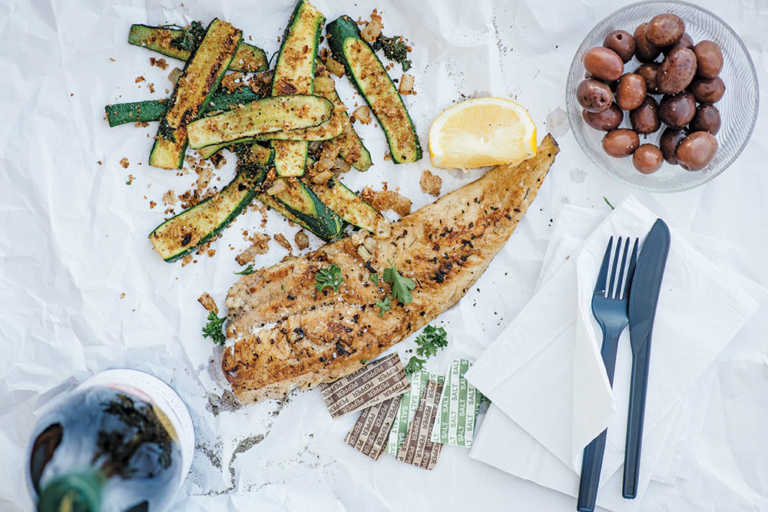 To make baked hake with a side of courgettes for four diners, you will need:
For the fish:
Fresh parsley
700g of frozen hake fillets
1 fat onion
2 cloves of garlic
15mm of fresh root ginger
15 black olives
Extra virgin olive oil
Coarsely ground black pepper and salt to taste
Fresh lemons cut into quarters
For the courgettes:
700g of fresh courgettes
2 tablespoons of breadcrumbs
5 large spring onions
Fresh parsley
1 tablespoon of butter
2 tablespoons of extra virgin olive oil
Freshly ground black pepper
1 Preheat the oven to 220°C. Lightly season the fish with salt and black pepper. Thinly slice the peeled onion. Mince the garlic and grate the fresh ginger. Depip and coarsely chop the
olives. Fry the onions and garlic on the hob until soft and golden, stirring from time to time to avoid adhesion. Remove and reserve for later in the proceedings.
2 Select a shallow glass roasting dish and arrange the hake in the middle of the dish. Lightly drizzle with olive oil. Spread the olives on top, and sprinkle with the grated ginger and a little extra olive oil. Cook for six to eight minutes in the oven before adding the onion and garlic mixture to the dish. Reserve under cover.
3 While all this is going on, chop the spring onions and thinly slice the courgettes, removing the ends. Heat the olive oil in a frying pan and add the courgette slices. Toss the pan from time to time, retaining high heat. Season with salt and black pepper, and
complete the cooking in five minutes or so. Add the butter and breadcrumbs to the same pan.
As the crumbs begin to brown, add the chopped spring onions and let the combined contents of the frying pan cook for a further 60 seconds, tossing the pan a couple of times as you go.
4 Using warmed plates, dish up the fish, adding some olives and onions on top as part of the arrangement. Place the courgettes on the side, then sprinkle it all with fresh, chopped parsley. Add a quartered lemon to each plate. Tuck in!
David Basckin is a freelance journalist and videographer.