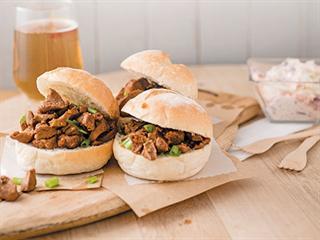 To make four rolls filled with red cooked pork, you will need:
500g pork fillet

50ml Old Brown Sherry

20g caster sugar

2 star anise (optional)

3 cloves of garlic

25mm cinnamon stick

35mm fresh root ginger

30ml strong soya sauce

300ml chicken stock

5 whole spring onions

Peanut, canola or sunflower oil
First question: why are we doing this? Well, hand-held food is portable food, and there are many instances in the working week when lunch needs to follow the busy person to work. A roll filled with red cooked pork, at any atmospheric temperature, is a delight far beyond peanut butter sandwiches or even a rare beef roll with piccalilli.
Moving on: place the whole pork fillet or fillets in a pan and cover with water. Bring to the boil for no more than five minutes, then remove and allow to cool under cover. When cold enough to handle, cut into bite-sized pieces. Crush, peel and mince the garlic. Peel and grate the ginger. Coarsely chop the spring onions, separating bulbs and greens. Decide for yourself about the star anise. It has a very strong flavour, which to some people tastes unacceptably medicinal.
Set up your wok and prepare for drama and high heat. Pour about 40ml of oil into the wok, ignite the afterburner and get things very hot, very quickly. As the oil begins to smoke, add the caster sugar and stir well. Next, add the pork chunks, taking care as the damp meat hits the hot oil. Stir-fry vigorously for five minutes. Reduce the heat. Add the ginger, garlic, cinnamon stick, Old Brown Sherry, dark soya sauce, spring onion bulbs, and the star anise (optional).
Cover the wok (use aluminium foil if your wok doesn't have a fitted lid) and cook over low to medium flame for 30 minutes, or until the meat is done to your liking. Remove the lid and discard the star anise and cinnamon stick. Rev up the heat and stir while the sauce reduces to a shiny glaze. Turn off the flame, add the chopped spring onion greens and stir them into the mixture.
You can either stuff fresh white rolls with the fragrant red cooked pork fillets, or quickly boil skinny noodles or plain white rice and eat the meal hot. The choice is yours. But believe me when I tell you that if you go for the simple, hand-held rolls, the cooled pork fillets retain their delicious flavours. Here's a mouthwatering, satisfying meal that's equally convenient for your lunchbreak at work or for a holiday picnic.