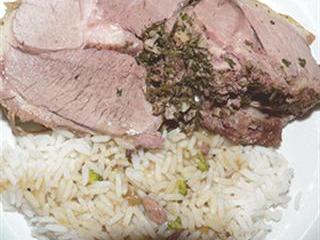 To make a stuffed, deboned leg of lamb for 6 you will need:
1,3kg leg of lamb

extra-virgin olive oil

fresh parsley

fresh garlic

black pepper and salt to taste

3 lemons
This ingredient list reveals the simplicity of this otherwise startling food idea. The parsley and garlic constitute the stuffing, by becoming a persillade (a sauce or seasoning mixture of parsley). This is a very good word to drop into food-related discussions and will elevate your standing as a gastronome. Making a good persillade involves combining raw garlic and parsley in equal amounts. Some elect to add other fresh herbs, but in my opinion simplicity is the issue here.
Given that the persillade is likely to be something of a novelty for the beginner cook, let the extraordinary taste sensation of a simple persillade do the trick before becoming adventurous. For those who are tentative about garlic, this is the time to embrace this miraculous bulb. Do this by crushing each clove of garlic with the flat of a big knife. This speeds up the peeling process as the husk falls away. Finely chop the white raw garlic.
Do the same with an equal amount of fresh parsley, combine the two in a mixing bowl and inhale the life-affirming, mouth-watering aroma that is produced. Now for the lamb. Second only in importance to the farmer is a good butcher, worth their weight in unwrought gold. Ask this paragon of meat science to debone the leg of lamb you have chosen. The result should be a butterflied leg, with the bones packed separately and sawn into 150mm sections for later use in stock.
Place the lamb on the work surface, and pack the space where the bone used to be with masses of the raw persillade. Then fold the meat back into a leg of lamb shape and tie it all together with clean string. What you now have is a persillade stuffed deboned leg of lamb. The next process it to lightly rub a couple of teaspoons of extra-virgin olive over the roast and sprinkle on a generous quantity of coarse black pepper and very little salt.
Roasting is not rocket science, so long as you know and trust your oven. Place the lamb in a roasting pan and roast in the middle of the oven at 160ºC. There are various formulas for the relationship between roasting time and temperature. One should avoid all guesswork by relying on a meat thermometer. Given the cost of good meat, a meat thermometer is a rational kitchen purchase.
Rare lamb is ready at 60ºC, medium at 65ºC and well done at 70ºC. Serve thinly sliced with wedges of fresh lemon. A Rust en Vrede Shiraz 2005 transforms this meal into a quasi-religious experience.