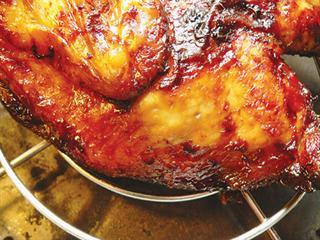 Cooking with fire is a great connection with the culinary past. And when fire is just one of the easy heat options available, the pleasure and satisfaction is supreme. Of course, not all fire is straightforward: the after-cooking cleanup goes a long way to destroying the mood.
In a Cobb, of course, the effort of cleaning up is minimal, bringing cooking with fire right back into the centre of this hack's battery of food preparation skills. Chicken, the universal bird of Africa, lends itself to cooking over a fire. And this is the hot and sticky way I like it …
Finger-lickin' good
Regardless of the braai you use, get the fire right for chicken. Chicken needs to be cooked right through without scorching the skin. Avoid at all costs the experience I had on a recent visit: a braaied chicken thigh chilled and bloody at the bone with an elegant sooty finish where the skin used to be. This means a slow fire of glowing coals, preferably under a lid.
A kettle braai, regardless of brand, is the best bet, providing all the benefits of cooking with fire with a minimum of attention and fuss.
Now for the hot and sticky glaze. This is the act of near-magical transformation that takes a nicely-braaied fowl and converts it into a blast of flavour, with taste additions ranging from sweet to sour and back again. Boy oh boy, it is marvellous, and once eaten will remain a source of dreams and good memories forever.
Meanwhile, back in the kitchen, this is what you do: peel and mince the fresh ginger and garlic. If you're a sissy, remove the pips from the chillies; otherwise, mince the chillies whole.
Select a 1â"" saucepan, pour in the extra-virgin olive oil and gently fry the ginger, garlic and chillies for 90 seconds. Add all the remaining ingredients, raise the heat and let it bubble away under close supervision. Stir from time to time to avoid bits sticking and burning; the last thing you want is to destroy the flavour with the acrid taste of burnt garlic.
Lower the heat a little and reduce the sauce to a sticky mass … the stickier the better. What you've got now is a truly wonderful, ultra-shiny, sweet-and-sour glaze, with subtle accents of ginger and brandy.
Cut the chicken into halves or quarters, and paint the glaze over all sides of the pieces. Set on a grill over the glowing coals, cover with the lid if using a kettle braai, and let the fire get to work.
Check from time to time, turning the chicken if necessary and adding more glaze if conditions demand it. s soon as the fowl is properly cooked right through, serve with rice or baked potatoes and a fresh green salad.
An ultra-chilled Pilsener adds the finishing touch. Enjoy. – David Basckin |fw