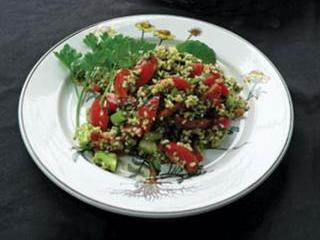 To make a tabouleh for four, you will need:
1 cup Bulgar wheat 
5 medium tomatoes
1 big bunch fresh parsley
1 big bunch fresh mint
10 juvenile spring onions
1 lemon
Salt
Ground cinnamon
Ground mixed spice
Whole lettuce
Pita breads
Firstly, my thanks to Alain Tschudin for sharing this (now not so secret) family recipe. Secondly, eagle-eyed readers with high panic thresholds will have noted the curious lack of precise quantities. Be calm. Everything's going to be alright. Begin by selecting a large mixing bowl. Into this pour the cup of Bulgar wheat (usually found in health shops). Fill with water with at least a 'thumb-length' of cold water covering the Bulgar wheat. Those of us with nonstandard thumbs might prefer 60mm as the appropriate measure.
Let the Bulgar wheat soak for two hours at which point most of the water will have been absorbed. Select a second bowl. Take a fistful of soaked Bulgar wheat in hand and squeeze out as much of the water as possible. Take your time over this, since too much water in the mix dilutes the final flavour. Coarsely chop the tomatoes, taking care to retain the juice. Add the juice and the tomato fragments to the Bulgar wheat and mix with a serving spoon.
Wash the spring onions carefully to remove bits of soil. Cut off the roots and reject damaged leaves, then chop the spring onions finely, combining the green and white sections. Add the chopped spring onions to the bowl and mix in. Separate the parsley heads from their stems. Taking the heads in hand, crush these between your fingers to bruise them, then chop finely with a sharp knife. Add to the mix.
As with the parsley, separate the mint leaves from the stems and chop them finely. Add the finely chopped parsley and mint to the bowl and mix well to evenly distribute the ingredients. Take half the lemon and squeeze the juice into the mixing bowl. Stir well. Drizzle in a couple of tablespoons of extra virgin olive oil, a generous sprinkling of mixed spice and ground cinnamon.
Add salt, noting that you can add more later, if necessary. With salt, be conservative as it is easy to add and impossible to remove.
The tabouleh is meant to be moist. When you've got the taste to your liking, chill the tabouleh for a couple of hours. You can serve this magnificent taste experience on its own, wrapped in crisp lettuce leaves or with oven-warmed pita breads.
In my household, we enjoy tabouleh with a braai or grilled steak. If you go for the lettuce and pita option, a couple of glasses of ice cold Chenin Blanc hits the spot.
Contact David Basckin at [email protected]. Please state 'Real cooking' in the subject line of your email.