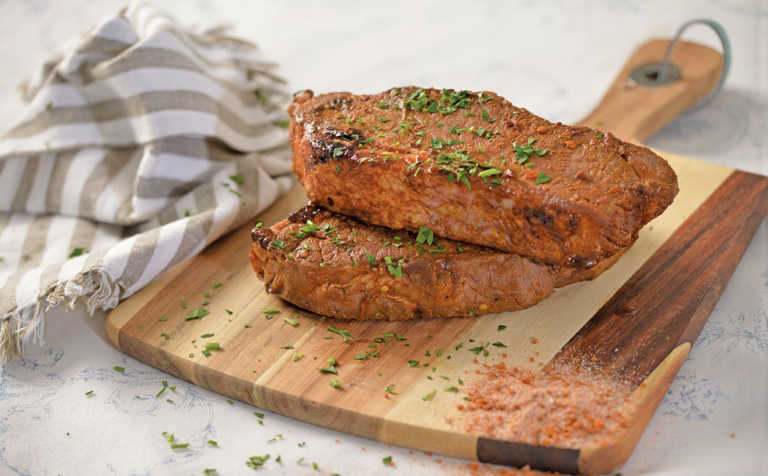 To make these dry rubs, you will need:
Dry rub #1
15g salt
30g castor sugar
30g brown sugar
30g ground cumin
15g chilli powder
30g freshly ground black pepper
45g paprika
Dry rub #2
15g sugar
15g salt
3 cloves garlic
10g ginger powder
15g white pimento (aka allspice berries)
2g nutmeg
15g black pepper
30g dried thyme
5g cayenne pepper
Here are two recipes for a dry rub. They will transform your braais, enhance your steaks, and bring new meaning to any red meat you elect to expose to the amiable heat of your braai. But first some theory.
There are marinades, wet rubs and dry rubs. Each involves exposing raw meat to additional flavouring. In my view, the last thing a braai needs is wet meat since dry is the best way to braai.
Dry meat allows the blood sugars to swiftly caramelise, so creating that highly desirable crust of umami flavour.
Umami is a Japanese word describing the fifth taste, separate from the traditional concepts of sweet, sour, bitter and salt.
There are braai mechanics of great stature who disagree with this. But for this fan of red meat and open fire, a dry rub revs up the umami, and who could ask for more?
Next, technique. Those of us who rely on salt and pepper are already using a dry rub. But a list of two items cries out for additions.
In general, grinding and mixing the ingredients of a dry rub are best done just prior to use. The moment spices are ground, their surface area is extended and exposed to the air. Bye-bye flavour.
Application of a dry rub requires only freshly washed hands. Use your thumbs to massage the meat, driving the ingredients of the rub into the grain.
Then hold the meat vertically and tap it once or twice to knock off the excess. So, what spice and herb combo springs to mind?

DRY RUB #1
As the double dose of sugar tells you, this is a sweetish rub with chilli powder and black pepper for high-end heat. The best chilli powder is the stuff you grind yourself. Use dried chillies to start with.
DRY RUB #2 
This is a borderline dry rub, thanks to the fresh minced garlic. It's a crisis only for dry rub purists. You can use the pre-ground versions of the paprika, nutmeg and cayenne pepper. Combine all the ingredients in a spice grinder and apply to the raw meat.
Note that 2g of nutmeg is slightly less than half a teaspoon. Finally, see a dry rub as an ideal opportunity for invention. Coriander – a staple of boerewors and biltong – works superbly as a standard ingredient of any red meat dry rub.
Enjoy your next braai!