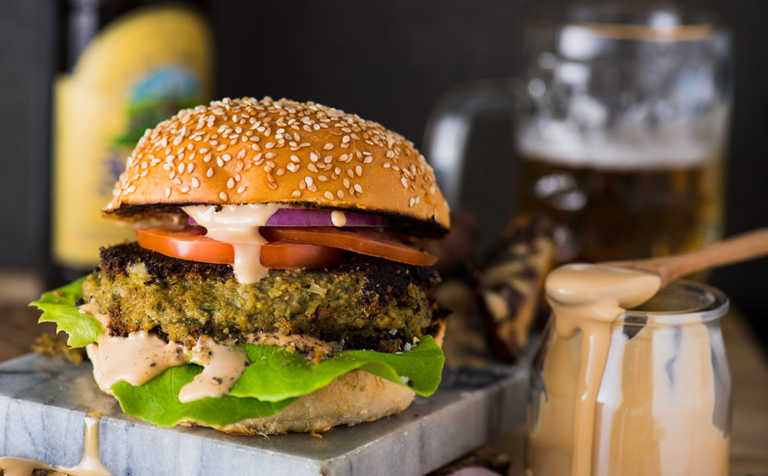 To make chickpea burgers for four diners, you will need:
1 generous bunch of parsley
10 basil leaves
4 sprigs of coriander (dhania)
4 cups of chickpeas
1 onion
4 cloves garlic
1 tablespoon flour
2 teaspoons freshly ground cumin (jeera)
1 teaspoon freshly ground coriander seeds (dhania again)
1 teaspoon salt
½ teaspoon freshly ground black pepper
Canola or sunflower oil for frying
4 burger buns
Sauce:
Mayonnaise (or vegan alternative)
A dash of Worcestershire or light soya sauce
Sliced raw onion
Sliced fresh tomato
A generous dash of red Tabasco (optional)
1 We begin with the chickpeas. These come dried or canned. Canned are convenient; dried are labour-intensive but superior in final texture and flavour. If using canned chickpeas, drain them before use. If using dried chickpeas, soak them in cold water overnight, then boil vigorously for half an hour in lightly salted water. Drain and reserve.
2 Crush and peel the garlic, and peel and coarsely slice the onion.
3 Lightly toast the cumin and coriander seeds in a dry frying pan on the hob, then grind them in a spice grinder or with a mortar and pestle.
4 Wash all the fresh herbs, and chop the parsley.
5 Set up your food processor. If you don't own a food processor, a blender will work
just as well. Add the chickpeas, garlic, onion, one-third of a cup chopped parsley, the basil
and coriander leaves, freshly ground cumin and coriander seeds, flour, salt and pepper.
Pulse the machine, keeping a sharp eye on the outcome. Do not reduce everything to a paste; rather keep it coarse in texture. If using a blender, you may need to make the mixture in two batches.
5 Chill the mixture for an hour to assist the coherence of the patties.
6 By hand, shape the patties to slightly overlap the diameter of the burger buns.
7 Deep-fry the patties in 12mm of canola or sunflower oil for about three minutes a side,
turning once. Drain the oil off the patties for a few minutes on unused brown paper.
8 Assemble the burgers on fresh or toasted buns, with thin slices of tomato and raw onion, plus a sprinkling of chopped fresh parsley and a crunchy lettuce leaf.
9 Now for the burger sauce. My version is not strictly vegan, but you can use vegan
alternatives if necessary. Mix the mayonnaise (you can use vegan mayonnaise if your diners are vegan), Worcestershire (or soya sauce), and Tabasco. Add more or less of the ingredients after tasting. Place on top of the assembled burger.
Guaranteed to please!
David Basckin is a freelance journalist and videographer.