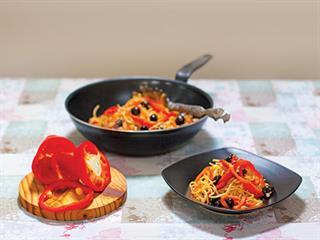 To make pasta with roasted sweet peppers and olives, you will need:
500g linguine
Coarse salt
Coarse black pepper
2 teaspoons dark soya sauce
1 teaspoon brown sugar
1 pele-pele chilli (optional)
3 tablespoons of extra virgin olive oil
3 red sweet peppers
1 large red onion
3 cloves garlic
Half-a-cup black olives
This delectable dish is just a tiny bit more complex than your average pasta dish, because the sweet peppers need to be roasted first. Do it like this: top and tail the peppers, remove the core in each case and its associated pips. Cut the
remainder into elegant rings or coarse chunks. Heat the oven to 180°C. Pour a little virgin olive oil into a roasting pan
and arrange the rings or chunks of sweet pepper in a single layer.
Spread a little oil over the tops, then stick the pan and its contents into the oven. Roast for 15 minutes or so, keeping a sharp eye on the peppers. Turn them at half time. A few scorch marks are desirable since they provide a smoky flavour.
Remove and reserve under cover for later in the proceedings. Thinly slice the onion. Crush, peel and mince the garlic. Depip the black olives and cut them into coarse chunks. Make a decision about the chilli.
'Optional' in this recipe means just that. If you are unmoved by the excitement a chilli can create, leave it out. If you are moved, slice the chilli open, discard the pips and chop finely. Select a large frying pan. Fry the onion, garlic and optional depipped chilli in a little olive oil until the onion slices are soft and translucent. Add the roasted peppers and the depipped olive chunks to the pan and let them fry for four minutes, stirring from time to time.
In a small bowl, mix together the dark (cooking or heavy duty) soya sauce, the brown sugar, a single teaspoon of coarse
salt and a quarter teaspoon of freshly ground black pepper. Add this fragrant mixture to the contents of the frying pan and
let them fry together for a couple of minutes on a low simmer.
Bring a large saucepan of lightly salted water to a rolling boil and cook the pasta for the time indicated on the packet. When done, drain the pasta and dump the water with the exception of half a cup. Add this half cup of pasta cooking water to the frying pan, stir it in to the mix, then add the cooked pasta. Stir well to coat the pasta with the sauce, peppers and olives.
Serve at once, with a gentle sprinkle of freshly chopped Italian parsley or oregano.