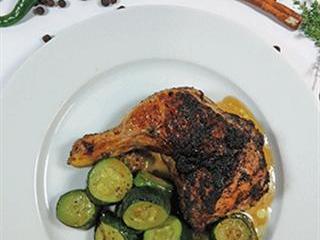 And where does this extraordinary word 'jerked' come from? Jerked chicken (or fish, pork or goat) is a Jamaican cultural concept, right up there with Bob Marley and exotic organic cheroots. In this recipe, the jerked bit refers to the wet rub applied to the raw chicken. A wet rub is somewhere between a dry rub and a marinade.
Begin the manufacture of the wet rub by grinding the whole allspice, whole cinnamon and black peppercorns in either a dedicated spice grinder or pounding the spices to dust in a mortar and pestle. 'Dedicated' is the key word to avoid unexpected consequences in the coffee mug. Detach the thyme leaves from the woody stems and cut off the spring onion roots. If chilli heat presents problems, remove and reject the pips from the fresh chillies.
Pour the allspice, black pepper, cinnamon, nutmeg and optional salt into the receiving vessel of a food processor. Drop in the spring onions, the chillies (whole or depipped), the freshly squeezed juice of the limes, the soya sauce and the jaggery or alternatively plain brown sugar. Jaggery is a wild taste addition located in Asian supermarkets. Rev the food processor to the red line and reduce the contents to a thickish pulp.
Arrange the chicken pieces in a flat oven dish and cover them with the freshly processed wet rub. Stretch fresh cling wrap over the dish and its contents and chill it in the fridge overnight or for a minimum of four hours. Skilled braai mechanics will know what to do next. The big deal is a slow fire, turning the chicken pieces every 10 minutes and removing the jerked chicken only when clear juices run out if pierced by a skewer. Alternatively, you can produce a very good effect in the oven.
Preheat the oven to 200°C. Remove and discard the cling wrap, replacing it with aluminium foil. Stick the ovenproof dish of wet rubbed jerked chicken into the middle of the oven and let it roast until cooked right through. Remove the dish and if you want a nice crispy charred effect, a handheld gas torch does the trick. This outstanding and flavoursome meal goes magnificently with roasted potatoes, both sweet and regular. Zucchini lightly fried in extra virgin olive revved up by a tablespoon or two of butter adds another dimension to the meal.
And to drink? Ultra chilled lager from Windhoek or a crisp Hansa Pilsener. What a blast!
Contact David Basckin at [email protected]. Please state 'Real cooking' in the subject line of your email.