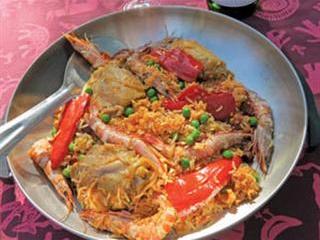 To make this meal for six diners, you will need:
8 chicken thighs, bone in, skin on
18-20 tiger prawns, whole
1 can of whole tomatoes
1 onion
1 chorizo sausage
400g plain white rice
Extra virgin olive oil
4 red peppers (but see the notes below)
3 cloves garlic
1 teaspoon paprika
½ teaspoon ground cayenne pepper
½ teaspoon saffron (beautiful, expensive, dispensible)
50g fresh peas
Salt and freshly ground black pepper on demand
Drain the can of tomatoes and discard the juice. Crush, peel and chop the garlic and the onion. Cut the chorizo sausage into 5mm slices. Cut the red peppers in half, lengthwise and reject the seeds. Ideally the peppers should be sweet. Thaw the prawns, which need not be tigers. Plain ones are just as tasty, though less visually compelling. Remove the colon from each prawn, taking care to keep the creature in one piece.
Now for the equipment. Ideally you need a paella pan. Alternatively, a very large deep frying pan should do the job. Maybe a skottel would work, although this is an unproven suggestion. Pour a couple of tablespoons of extra virgin olive oil into the pan of your choice and bring up to a medium to high heat. Season the thighs with salt and pepper then brown them on both sides in the hot oil. Remove and reserve them for later in the proceedings.
Reduce the temperature and fry the onion, garlic, peppers and chorizo slices until the onions are soft. Mix in the cayenne, paprika and optional saffron and simmer for a minute or two, stirring well. Add the browned thighs, the drained canned tomatoes and 1 200ml of boiling water. Let this simmer gently for 10 minutes. Remove and reserve the thighs under cover.
Now for the alarming bit. Pour the rice into the middle of the pan, bring the contents to the boil, stir well, then simmer uncovered for 10 minutes. Stir from time to time to avoid burning.
Now return the thighs and add the peas and the prawns. Let the simmering continue under your watchful eye for 15 minutes. Check the rice and if not cooked through, give it another five minutes. Top up with a little boiling water if needed, to keep the rice submerged. Stir carefully, taking care not to break up the prawns. Remove the pan from the heat and serve with chunks of fresh lemon as a garnish.
This magnificent meal goes very well with a crisp, very cold white wine or the ultra-chilled lager of your choice. Enjoy.
Contact David Basckin at [email protected]. Please state 'Real cooking' in the subject line of your email.