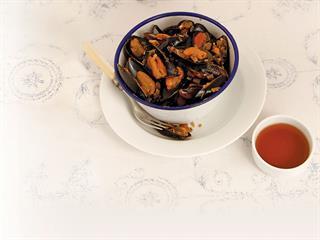 To make mussels in beer for four diners, you will need:
800g frozen mussels
1 bottle Castle Milk Stout
3 cloves garlic
1 or 2 onions
50g butter
Sprigs of fresh thyme, tarragon and origanum, or 1 level teaspoon each of the same herbs, dried
1 level teaspoon freshly ground black pepper
1 bunch fresh parsley

Optional extra:
Juice of half a lemon
1 or 2 teaspoons Thai fish sauce
Let us begin. Partially thaw the frozen mussels under cover. If you are using fresh herbs, remove all traces of Mother Earth then tie the sprigs together with cotton. Dried herbs should be measured carefully. Crush, peel and finely chop the garlic. Peel and thinly slice the onion. Coarsely grind the pepper. Wash and chop the fresh parsley, then store it in a bowl for later in the proceedings.
Rinse the outside of the sealed package of mussels to remove any flavour contaminants. Open the bag carefully and pour the contents into a large bowl. Cover the bowl and allow the mussels to thaw completely. Keep the juice that the thaw produces.
Next, select a large heavy-based saucepan and bring this up to medium heat. Add the butter and allow it to gently melt. Add the onion and garlic, and let them sweat in the hot butter. Add the herbs.
Stir the mixture from time to time, taking care not to burn the butter. After a couple of minutes, when the onions are soft and translucent, pour in the black pepper and milk stout, which must be at room temperature. Beer straight from the fridge will slow everything down. Bring this up to a rolling boil, then add the thawed mussels and mussel juice.
Reduce the heat to medium and let the mass seethe for five minutes. Over-cooking will rob the mussels of liquid and reduce them to bits of salty rubber. Judge the situation by eye and taste. Kill the heat, and add at least a cup of finely chopped fresh parsley. Stir this well into the meal, then serve in soup bowls.
Now for the optional dipping sauce. Mix the Thai fish sauce and lemon juice and serve it in tiny bowls, one per diner. Invite your guests to dip the occasional mussel into the sauce, which will add an alternative dimension to the spread of flavours. This meal demands two things: plenty of freshly baked bread and an ultra-chilled Milk Stout or two to further enhance your eating experience.