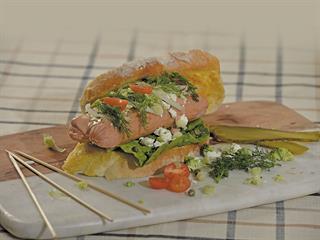 To make Not-So-Humble Hot Dogs for four lucky diners, you will need:

1 loaf ciabatta
4 large rookworst or bratwurst sausages
Iceberg lettuce
2 rounds feta
1 punnet rosa tomatoes
1 small onion or a shallot
2 sweet and sour pickled cucumbers
8 capers
4 sprigs fresh fennel
4 florets brocolli
4 spring onions
Red Tobasco
100ml mayonnaise
100ml tomato sauce
We begin with the bread. You can, of course, revert to normal and use a standard hot dog roll. But the Not-So- Humble Hot Dog deserves more, and a ciabatta or other sourdough loaf is the better road to travel. Cut the loaf into 25mm thick slices and toast. Then cut them longitudinally, leaving a thin connection between the two parts.
Next, warm up the smoked sausages in simmering water, but do not boil as this may lead to bursting. Don't use franks or sausages made from chicken. Stick with pork, carefully smoked by a skilled butcher to achieve a powerful flavour.
For the sauce, whisk together equal quantities of mayonnaise and tomato sauce. Rev this up with a couple of drops of red Tobasco, or, alternatively, stir in a teaspoon of the highly spiced oil that comes with green mango pickle atchar. In each case, be it mango pickle oil or red Tobasco, go easy; all we want is an accent to the flavour, not a veld fire.
Prepare the vegetables. Finely chop the spring onions – bulb and greens together. Peel and thinly slice the standard onion or shallot, breaking up the slices into rings by hand. Coarsely chop the pickled cucumbers and cut the rosa tomatoes into quarters.
Cut the feta into small squares. Manually break up the raw brocolli into the smallest complete florets. Wash and spin-dry the lettuce leaves.
Assembly time. Line the not-quite-separate halves of the toasted ciabatta or roll with a single crisp lettuce leaf. On this, lay the steaming hot smoked sausage. Drizzle the sauce over the sausage in a thin stream.
Then, onto this slightly sticky base, arrange a layer made-up of the mixed vegetables and feta. Top this in each case with a sprig of fresh fennel, which is as much for the visual effect as it is for aroma and flavour.
Finally, stick a wooden skewer through the middle to keep the whole construction together. And to drink? This event demand toasts in either of two traditional forms: a chilled lager or an ultra-chilled Coke, straight from the can.
David Basckin is a freelance journalist and videographer.