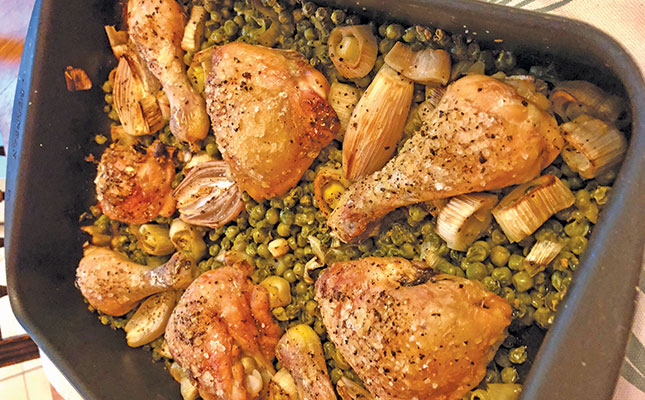 8 pieces of chicken with skin on and on the bone (thighs work best, but you can also use breasts and drumsticks)
500g frozen baby peas
250g leeks
3 shallots (or medium-sized brown or red onions)
3 large cloves of garlic, crushed
A handful of mint leaves (optional)
60ml white wine
30ml olive oil
15ml lemon juice
Salt and pepper
1. Heat the oven to 180°C.
2. Roughly chop and then wash the leeks. (It is important to wash the leeks after chopping to make sure you get rid of any dirt that might be hidden between the layers.)
3. Peel and cut the shallots or onions in half lengthwise.
4. Put the frozen peas, chopped leeks, crushed garlic, wine, olive oil and lemon juice, as well as a good seasoning of salt and pepper, in a large roasting pan and mix well.
5. Arrange the chicken pieces and the shallots on top of the pea and leek mixture. Brush a little olive oil over the chicken and sprinkle coarse salt and freshly ground black pepper over the chicken.
6. Bake for 45 minutes, then take it out of the oven and gently mix some mint leaves into the peas. If you are not using the mint, gently turn over the peas to make sure that they don't start drying out.
7. Bake for another 30 minutes or until the skin on the chicken has turned brown and crispy.
8. Serve with some rice, mashed potato or another starch of your choice.