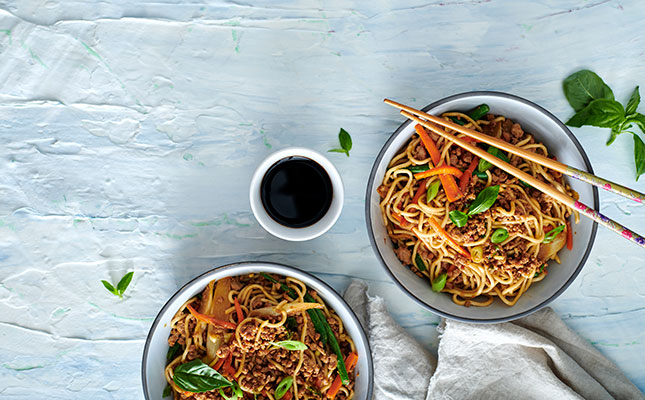 To make this meal for four diners, you will need:
500g fresh asparagus
Half cup fresh basil leaves
6 spring onions
2 carrots
4 cloves of garlic
5ml sesame oil
15ml to 30ml canola or sunflower oil
500g freshly minced pork fillet (this can be replaced with chicken)
60ml light soy sauce Red Tabasco
Salt and freshly ground black pepper to taste
Yes, you can cook this meal on a skottel braai, but if you intend to become a regular stir-fryer, buy a wok. Woks demand high heat and rapid temperature control for the best results.
1 Scrape clean the carrots and cut them into matchstick sized fragments. Top and tail
the spring onions and cut the remaining stems and bright green leaves into 5mm sections
on the diagonal. Cut the trimmed asparagus into 25mm lengths, also on the diagonal.
Crush, peel and finely chop the garlic. Roll the fresh basil leaves into straws and cut them into thin sections. Measure the liquids and have them standing by. Take great care with the accurate dispensing of sesame oil; it is very easy to add too much.
2 Mix the canola or sunflower oil with the sesame oil and bring this up to high heat in the wok. Add the garlic and stir-fry for 20 seconds. Add the minced pork fillet or chicken, breaking up any lumps that may exist, and vigorously stir- fry with a large, stainless steel spoon or egg lifter. Keep everything moving in the pan as the sizzling proceeds.
3 After eight to 10 minutes, add the carrots and spring onion sections and continue to stir-fry for another two minutes. Pour in the soy sauce, sesame oil and the Tabasco and cook for a further two minutes. Only then add the sections of fresh asparagus, lower the heat and stir-fry gently for another three minutes.
4 Kill the heat, sprinkle with the strips of basil, stir them into the mix, and add salt and pepper to taste. Serve at once on either a bed of white rice, Chinese egg noodles or linguine.
• David Basckin is a freelance journalist and videographer.