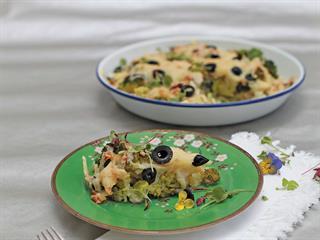 To make oven-baked cauliflower, broccoli, olives and cheese for six dazed and confused diners, you will need:
700g cauliflower
700g broccoli14 black olives
1 onion
3 cloves garlic
Extra virgin olive oil on demand
Coarsely ground black pepper
Salt to taste
½ teaspoon ground cumin (optional)
¼ cup chopped fresh parsley
¼ cup grated Parmesan cheese plus ¼ cup grated Pecorino cheese or ½ cup feta cheese
First, an incontrovertible truth: this variation on cauliflower cheese knocks that tiresome old staple right back into the previous century, and maybe even the latter phase of the one before that. On with the show.
Preheat the oven to 190°C. Peel and thinly slice the onion. Crush, peel and mince the garlic. Rinse the brine from the olives, cut each in half and remove the pip.
Bring a large saucepan of lightly salted water to a rolling boil. Remove the cauliflower from its leaves, and manually separate each floret. Break up the raw broccoli the same way. When the water boils, add the florets and let them boil for about five minutes. Use the five minutes of enforced idleness to pour iced water or cold tap water plus ice into a large bowl. As soon as the boiling time has elapsed, remove the florets with a slotted spoon and dunk them into the iced water. This stops the residual boiling process.
In a frying pan with about 20ml extra virgin olive oil, gently sweat the sliced onion and minced garlic for as long as it takes the onion to soften and become translucent. In an ovenproof baking dish, arrange alternate cauliflower and broccoli florets in layers. Pour over the entire contents of the frying pan. Arrange the olive halves on top, plus half the quantity of cheese and all the chopped parsley. If you have decided on feta instead of the two grated Italian hard cheeses, crumble it with your fingers before spreading it over the contents of the dish.
At this point, a spot of fiddly kitchen craft intrudes. With a spoon, spread the contents of the dish, allowing the cheese, olives and sweated onion to mingle with the florets. Then pour the remainder of the cheese on top. If you so desire, sprinkle the optional ground cumin.
Bake this fragrant collection of splendid ingredients for half-an-hour until the cheese is pleasantly browned, then serve to cries of amazement and applause.