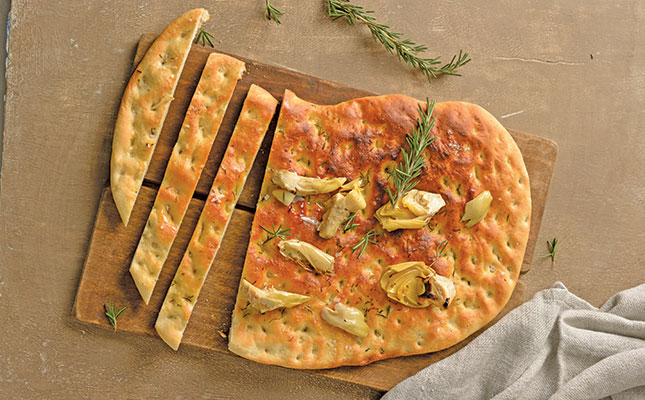 To make focaccia with garlic, rosemary and artichoke, you will need:
900g plain flour
1 tsp salt
1 tbsp sugar10g instant yeast
600ml lukewarm water
1 tbsp rosemary chopped, with extra for sprinkling
A 280g jar roasted artichokes
1 Preheat the oven to 200˚C. Sift the flour and salt into a large bowl. Make a well in the centre and add the sugar, yeast, warm water and rosemary.
2 Knead the dough for about five minutes until it is smooth and elastic. Form the dough into a ball shape. Rub oil into the dough; this will stop it from drying out. Cover the bowl with cling film. Let the dough sit in a warm place for approximately an hour, or until it has doubled in size.
3 Cut the dough into two sections, and flatten to 3cm or 4cm thick. Sprinkle with sea salt and rosemary, and bake for 35 minutes. Remove from the oven, and top the bread with roasted artichokes.
• Nomvuselelo Mncube is the cooking assistant for Food & Home Entertaining.