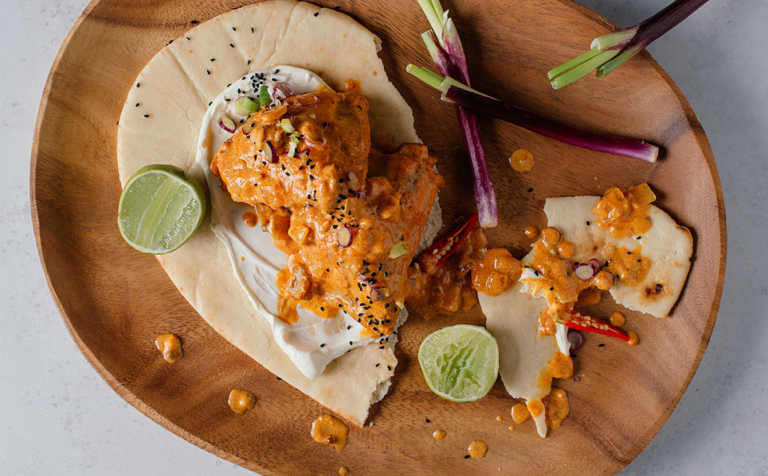 To make this delicious chicken meal for six hungry diners, you will need:
Store-bought Naan bread for serving
900g skinless chicken thighs
1 tin chopped tomatoes
50ml tomato paste
1 onion, peeled and finely diced
2 tablespoons curry spice
3 cloves crushed garlic
1 cup pouring cream
A splash of olive oil
30ml butter
Salt and pepper to taste
250ml Greek-style yoghurt
First, some revelatory theory: we skin the thighs because chicken skin looks like hell after boiling or simmering.
Back in the kitchen: select a heavy-based ovenproof dish with a fitted lid. Grease the dish with butter or oil, and preheat the oven to 180°C.
Place the chicken thighs in the dish, drizzle with olive oil, and season with salt and pepper.
Pop the chicken in the oven and roast for about 20 minutes, or until slightly golden and crispy around the edges.
While the chicken is in the oven, finely chop the onions, and peel and crush the garlic. Set aside one clove of the crushed garlic. Select a frying pan and, over medium heat, fry the onions in the butter, being ever-watchful that they don't burn!
When they start to caramelise – that is, turn a deep golden brown – add two cloves of the crushed garlic. As with the onions, make sure that the garlic doesn't burn, as this leaves a bitter taste.
Once the garlic becomes fragrant, add the curry powder and fry gently. Finally, add the tomato paste.
When the above ingredients are thoroughly combined, add the chopped tomatoes. Fill the empty tomato tin with tepid water, add to the mixture on the stove, and stir to combine the sauce.
Your chicken should be ready to come out of the oven by now. Add the chicken pieces to the sauce.
Simmer gently for about 30 minutes, stirring regularly to ensure that the tomato sauce doesn't stick or burn. Remove from the heat and allow to cool.
Add the cream and stir until combined. Taste to check the seasoning and add more salt and/or pepper as you deem fit. Make the garlic yoghurt by combining the last clove of crushed garlic with the yoghurt.
Season to taste. Heat the naan according to the package instructions. Serve the curry with the naan and garlic yogurt. Tuck in!
David Basckin is a freelance journalist and videographer.