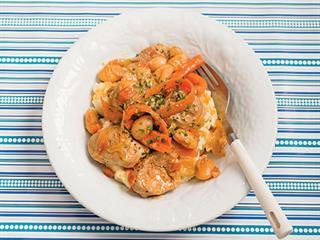 To make this winter casserole for four, you will need:
1kg pork fillets
3 large onions
3 carrots
4 cloves garlic
4 large tomatoes
2 cans white beans
1 tablespoon brown sugar
2 tablespoons light soya sauce
400ml chicken stock
25mm fresh root ginger
Generous handful of fresh parsley
Two sprigs fresh origanum
Salt and coarsely ground black pepper on demand
Canola oil
This highly versatile recipe works well with mutton, beef or pork. The advantage of pork fillets is that they cut down on cooking time without sacrificing flavour or texture. Begin with the stock. You can use a good quality stock concentrate or alternatively create a quick chicken stock yourself from chicken backs, wings, celery, onion and a few white peppercorns. Quantities are variable, as are the ingredients. The basic idea is to create a light, chicken-flavoured consommé to which the pork and vegetables later add their own flavours and complexities.
Onto the casserole proper, starting with the vegetables. Clean the carrots and cut them into sticks. Peel and thinly slice the onions. Crush, peel and finely chop the garlic. Peel and grate the fresh ginger root. Blanch the fresh tomatoes in boiling water for 45 seconds – this will allow you to swiftly remove the skins. Coarsely chop the skinned tomatoes and reserve the juice. If you're in a mad rush, replace the fresh tomatoes with canned tomatoes and add a little tomato concentrate to compensate.
Cut the pork fillets into thick slices (about 25mm), and lightly sprinkle with freshly ground black pepper.
Select a large heavy- bottomed saucepan with a fitted lid. Pour in a couple of tablespoons of canola oil and bring the temperature up to medium. Fry the sliced onions and finely chopped garlic with the grated ginger until the onions are soft and transparent. Add the chunked pork fillets, ensuring they become brown all over. Then add the chopped tomatoes, the origanum sprigs, the chicken stock, the drained white beans, the carrots, the soya sauce and the brown sugar. The latter compensates for the acidity of the tomatoes.
Let this fragrant combination simmer slowly until the meat becomes tender. When close to finality, check the acidity level of the meal by taste. If it's too sharp, a second 15ml of brown sugar should do the trick. Finely chop the parsley and spread it in a layer over the surface of the casserole. Remove the dish from the heat and fit the lid for the final few minutes. Comfort food like this cries out for mashed potato. Try mashed sweet potato for a change, combining it with a teaspoon or two of coarse Dijon-style mustard.
Tuck in!