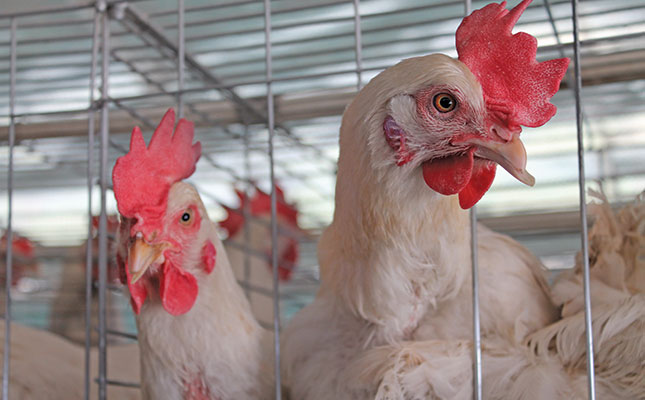 This brings to four the total number of poultry farms in South Africa where AI has been confirmed since late June 2017.
Department of Agriculture, Forestry and Fisheries (DAFF) spokesperson, Bomikazi Molapo, said that the two latest AI cases were identified late last week, and that her department had notified the World Organisation for Animal Health of these developments.
READ Egg producers extremely concerned about avian influenza
"It appears that migratory birds from Europe have been carrying the AI and that these birds have somehow been able to transmit the disease to the poultry on the four farms," Molapo explained.
She said that while most neighbouring countries had implemented bans on importing any SA poultry products since the H5N8 AI was discovered in June, other SA poultry importing countries, including in the European Union, were currently only prohibiting poultry product imports from the geographic compartments in which the AI had so far been identified.
However, these latter countries were requesting constant updates on the AI situation in SA.
"We are implementing the same quarantine measures on the two additional poultry farms that we used on the previous two farms. But our other poultry farmers must take their biosecurity measures very seriously to prevent wild birds from being able to come into contact with their poultry," Molapo continued.
READ US poultry imports – the facts
The SA Poultry Association (SAPA) explained that each site where AI had been discovered was urgently depopulated of all poultry, followed immediately by a site cleaning.
Then an intense secondary cleaning and disinfection of the site was conducted.
These sites would thereafter be closely monitored for a period of three months during which time no poultry would be allowed on the sites.
"After that has been successfully concluded, DAFF should be in a position to allow for the site to be restocked. This [entire] process will take about six months in total," said SAPA's CEO, Kevin Lovell.
He said that, so far, the AI discoveries had not had any significant impact on SA's poultry production and that there was currently still sufficient product for local consumers, especially since export quantities had now been reduced.
However, the national poultry products supply could become constrained if the AI found its way onto more SA poultry farms.
Molapo said that once culling of all poultry on the two more recent AI-infected farms was completed, a total of approximately 500 000 chickens across all four farms would have been culled as part of the quarantine and decontamination efforts.
DAFF reminded stakeholders in SA's poultry value-chain that if they wanted to move poultry from one area to another, they first needed to be registered with the Poultry Disease Management Agency.
This registration allowed SA's animal health authorities to monitor poultry movements for enhanced protection against the spread of the AI and other poultry diseases.
Information on how to register with the PDMA can be found at:
Tel: 012 529 8298
Email: [email protected] / [email protected]
Website: www.daff.gov.za