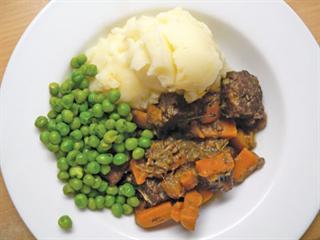 To make beef and carrot casserole in red wine for six, you will need:

250ml dry red wine
1kg beef
6 carrots
4 onions
2 cloves garlic
50ml extra virgin olive oil
A sprig each of fresh origanum, sage and parsley
Freshly ground coarse black pepper
Salt
30g plain white flour
Traditionally, casserole cooking is designed to get value out of cheaper cuts of meat. Chuck steak and brisket work well. In the case of brisket, discard most of the fat and the bones. Cut the meat into generous 20mm cubes. Next, the wine. You'll find the more densely written cook books insist you use the same quality of wine you drink. I'm not sold on this. I've made many delicious stews and casseroles using no-name brands in cardboard boxes.
But this time I chose a R40 bottle of Merlot. Continue the preparation by cutting the cleaned carrots into sticks, peeling and thinly slicing the onions and crushing, peeling and mincing the garlic. Tie the sprigs of fresh herbs into a neat bundle with clean cotton. This makes it easy to remove them after cooking.
In a large, heavy-based saucepan bring the oil up to a high heat. While this is going on, season the beef with coarsely ground black pepper and a little salt. When the oil is hot, dump about a third of the beef into the pan and let it sear in the hot oil. Move it around with a spatula to ensure the cubes brown all over. When done, after a minute or two, remove the cubes with a slotted spoon and repeat with the remainder.
(It's a bad idea to put in all the cubes at once. This will overpower the hot oil and diminish its fast browning action.) When done, remove the beef and place under cover. Lower the heat and sweat the onions and minced garlic until the onions are soft and translucent. Sprinkle the white flour over the onions, stir well, then add the 250ml of red wine.
Stir again while bringing the wine to a swift boil. Add the browned beef, the carrots and the herbs. At this point you have three choices, all of them good. Either add water, more red wine or beef stock until all the meat is submerged. Lower the heat to a mild simmer and let it bubble away under cover for two hours.
After 10 minutes or so, skim off and discard any scum. Check regularly and stir to prevent adhesions and burning. When done, remove the used herbs, add a little fresh parsley and serve with mashed potatoes, peas and a second bottle of that Merlot.

Contact David Basckin at [email protected]. Please state 'Real cooking' in the subject line of your email.