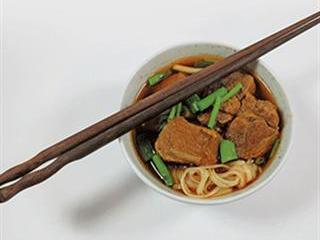 To make slow simmered pork with spring onions and anise for four, you will need:

1kg pork fillets
3 star anise
10 spring onions (Lisbon Giants)
120mm fresh root ginger
100ml light soya sauce
75ml good quality dry sherry
25ml red wine vinegar
2 tablespoons brown sugar
One small red chilli
1,5l chicken stock
If you have a hour of additional cooking time, make the stock fresh. Simmer in 2l of water a chicken back and some wings with a carrot, some celery, a few white whole peppercorns, a bay leaf and a whole onion. Roughly chop the vegetables. After 10 minutes, skim off the scum. An hour later, drain the pot, discard the soggy solids and retain the stock.
Next, de-seed and finely chop the small chilli. Peel the fresh ginger and cut it into thin circular slices. Inspect the star anise in your spice collection and select three that are structurally complete. Bear in mind that this is a non-Western flavour so fight the natural tendency to use more than suggested. Chop the spring onions into 15mm sections, including the green bits and the white bulbs.
Cut the pork fillets into mouth-sized portions. Decant 1,5l of chicken stock – shop-bought or joyously home-made – into a large saucepan. Add the pork, half the sectioned spring onions, the chopped de-seeded chilli, the ginger, dry sherry, red wine vinegar, soya sauce, the star anise and brown sugar. Bring this to a swift rolling boil, then cut the heat to a simmer and fit the lid.
Let the contents cook slowly for 45 minutes to an hour, stirring from time to time. Pork fillets are very tender so take care not to overcook them. We desire a soft texture but not a collapsed collection of stringy protein. When the meat is perfect, remove it and the other solids from the pot and rev the temperature to the red line. Maintaining close supervision, reduce the liquid to half its volume which will result in a thickened, highly flavoured, aromatic sauce.
Return the reserved solids to the pot, which should be off the hob. This will allow the contents to return to a uniform temperature. Serve this over white rice, linguine Italian pasta or standard Chinese egg noodles. Add the remainder of the chopped raw spring onions to each bowl as a garnish.
This magnificent collection of tastes and aromas is well served by a spicy white wine. Lager fans – hello brothers – might prefer an extremely cold Windhoek straight from the bottle.

Contact David Basckin at [email protected]. Please state 'Real cooking' in the subject line of your email.