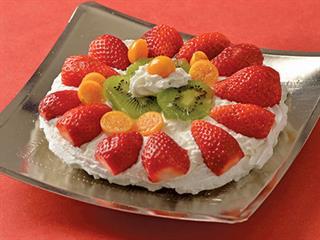 To make Sonja's Pavlova for four, you will need:
8 egg whites (290g)
400g castor sugar
20ml cornflour (Maizena)
8ml vinegar
20ml vanilla essence
Preheat the oven to 180°C. The idea is to maintain an even temperature with minimal variation throughout the baking process. While the preheating is going on, separate the eight eggs. Tip the egg whites into a mixing bowl and whisk them until they are stiff and dry. At this point, add half the castor sugar and slowly beat this into the stiff egg whites until the mixture becomes shiny. Mix the Maizena with the remaining half of the sugar and add it slowly to the mixture as the beating continues, including the vinegar and vanilla essence.
You can substitute a genuine imported Madagascan vanilla pod for the industrially produced vanilla essence – some pudding aesthetes insist that pod beats essence every time. If you decide to go for the vanilla pod, place it on a cutting board and split lengthways.
Once split, gently scrape the seeds out the pod and use them to replace the 20ml vanilla essence the recipe prescribes. Save the pod and stick it into a sealed container with 1kg of sugar to create a superb sweetener for coffee. Meanwhile, turn out the well-beaten mixture onto a flat baking tray, preferably lined with baking paper or a reusable baking sheet. Stick into the preheated oven and let it bake at 180°C for 10 minutes. Next, cut the oven temperature to 120°C and let the baking proceed for an additional 45 to 50 minutes.
Finally, kill the heat and leave the work in progress within the closed oven for the final 10 minutes. Remove the tray from the oven and let it cool for a few minutes. When cool, cut it with a palette knife into servings and lift onto plates. While this classic has more than enough flavour, fans of excess are invited to top the Pavlova with the fruit of their choice. Strawberries lightly dusted with castor sugar and spread with whipped cream do the trick for my family.