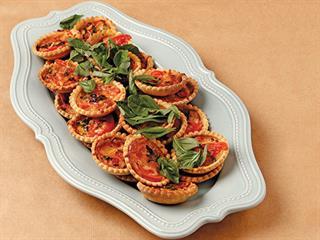 To make tomato tarts, you will need:
1 frozen tart base or a collection of smaller ones

250g mozzarella cheese

Fresh basil and rocket leaves

10-12 Roma tomatoes

Black pepper and salt

Extra virgin olive oil
Imagine the scene. The braai has finally come right, with the appropriate level of heat radiating off the well-settled, flame-free embers. The boerewors has done its best to cause a flare-up, while the evening air is scented with the unparalleled aroma of coriander-seasoned meat over a well-behaved fire. This is the moment to serve the vegetables.
I will grant you that vegetables are not a priority for the carnivores that frequent the braais of this nation, but for all that, vegetables add pleasure, texture and nutrients to the feast. Make your tomato tarts like this: begin, contrary to every foodie's code of ethics, with a single store-bought frozen tart base, or a number of smaller ones, as shown here. Fans of TV food shows know that serious celebrity chefs would never buy ready-made bases, but they have scores of helpers, lesser chefs and kitchen elves of all varieties.
For those of us who have better things to do and more urgent meat-braaiing issues to deal with, we need not bother with the tedium of home-made tart bases. Unpack the frozen tart base or bases, let them reach room temperature and arrange them on a baking tray. Preheat the oven to 180°C. Slice the tomatoes thinly. Roma tomatoes are preferable, but if they're not available, feel free to substitute with other smallish cultivars.
Next, slice or shred the mozzarella, and coarsely chop the rocket and fresh basil. Line each tart base with the mozzarella. Place overlapping slices of tomatoes over the cheese, then generously sprinkle a mixture of chopped rocket and basil on top. Season this with coarse, freshly ground black pepper and a little salt. An optional pinch of brown sugar in the middle of each slice of tomato is an added finesse that partially compensates for tomato acidity. Lightly splash some extra virgin olive oil (or sunflower or canola oil) over the top of the tart/s.
Stick the baking tray into the oven and let the tart/s bake for 25 minutes. Check after 15 and then 20 minutes to ensure that your creation does not overcook. Italian food lovers will notice a partial similarity to pizza, which may add an additional inducement to vegetable-resistant diners of all ages.