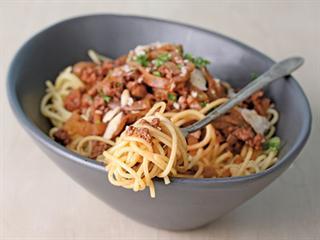 We start with the pasta. You can, if you wish, make your own. Alternatively, you can buy a good quality, ready-made pasta. While spaghetti is the standard, feel free to experiment with other shapes. Prepare the pasta by boiling in 2l of lightly salted water for as long as the printed instructions suggest. Timing is the big deal since you should have the meat sauce ready first.
Prepare the onions by peeling, then cutting them into thin slices. Partially crush the garlic with the flat of a heavy knife, then slide off the peels and chop them finely. Pour sufficient extra virgin olive oil into a pan, bring this up to medium heat and sweat the garlic and onions together, stirring from time to time until the onions are soft and golden.
Add the minced beef, breaking it up with a wooden spoon and mixing it well with the garlic and onions. Keep the hob at a medium temperature and stir the frying mass of meat until the colour changes from red to brown. At this point, slice the tips off the sachets of tomato concentrate and squeeze their contents into the mix. Stir well to distribute the ingredients evenly.
Pour in 150ml of dry red wine. Something out of a litre box is just fine. Let this bubble and seethe while you add a couple of sprigs of fresh origanum and thyme tied together with cotton. If you lack the fresh herbs, the dried industrially produced alternative does almost as well.
Keep a sharp eye on the bolognaise sauce. Taste it and if you like, add another 150ml of the red wine. Continue stirring while it bubbles away, reducing the volume of the liquid. Ideally, you want a sauce that's not too soupy – it should be deliciously thick and full of flavour. Let this simmer under a fitted lid for 30 minutes or so, then adjust the seasoning with a little salt and plenty of black pepper. If the tomato concentrate and much reduced red wine has made the taste a little acidic, moderate with a couple of teaspoons of brown sugar. Remove and discard the used-up sprigs of herbs.
Serve a portion of the freshly boiled drained pasta on each plate and top it with a couple of spoons of the bolognaise. Dress this with freshly ground Parmesan and chopped fresh parsley.
This classic demands a heavy red Shiraz or Pinotage.