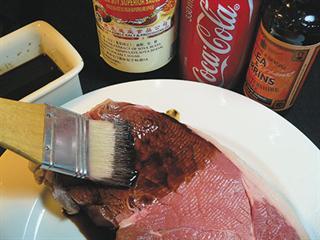 This usually happens at braais when the fire is too hot and the meat inadequately monitored, and it arrives black on one side and beer-soaked on the other. You know what I mean – we've all been there. Well here's the map back to cooking civilisation.
To prepare an unusual yet very delicious rump steak for four, you will need:
4 slices of well-aged rump, each 400g to 500g
100ml of Coca-Cola
50ml Lea & Perrins Worcestershire Sauce
100ml dark soya sauce
Freshly ground black pepper
A little extra-virgin olive oil
Maybe two cloves of garlic, if the mood is right.
This meal is designed for old-fashioned indoor cooking, using a standard hob and a frying pan. Ideally, the steak should be cut to your specification by the qualified blockman that all cooks try to make their friend. In my experience, the blockmen and their craft are almost as important as the farmer and the slaughtered beast.
The important issue here is uniformity in the thickness of the cut. While it is tempting to buy a giant chunk of prime beef and then slice it into steaks at home, the chance of you getting the dimensions correct is quite slight. Leave it to the man or woman in the striped apron. Back to the recipe – let the meat revert to room temperature. With a sharp knife, cut grooves into the remaining rim of fat, since this will prevent the steaks buckling during the cooking process.
Mix the three liquids – Coke, soy sauce and Worcestershire sauce – in a bowl. Note that the soya sauce should be the dark, thick blend designed for cooking and not the lightweight stuff used as a condiment. With a brush, paint the beef with three or four coats of the basting sauce. Select a heavy-bottomed stainless steel frying pan and add just enough extra-virgin olive oil to thinly cover the bottom.
Now crush and peel two cloves of garlic and fry in the hot oil for a couple of minutes. Remove with a slotted spoon and discard. This produces a flavoured oil for the final procedure. Grind the fresh black pepper and sprinkle a little over the basted raw beef. No salt is needed, thanks to the soya sauce. Put the basted steak in the pan and cook for 60 to 90 seconds a side, turning once. The sugars latent in the basting sauce caramelise and combine with the glucose of the steak to form a delicious crust.
If you really like the sauce, you can drizzle a little extra over the freshly grilled meat immediately prior to serving. And now for a final statement of unarguable truth – a great steak demands a great beer. I would like to suggest an ultra-chilled Pilsener as a first choice, with a Windhoek lager as a very close second.