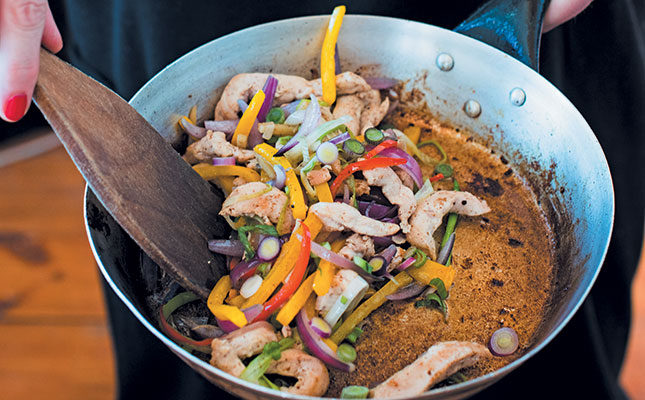 To make an ultra-quick chicken stir-fry with brown rice for four diners with more than just a hint of Thai in the flavours, you will need:
500g chicken thighs after skinning and deboning
1 sweet pepper
1 finger-length red chilli
1 onion
300mm fresh ginger rhizome
4 cloves garlic
4 spring onions
60ml fish sauce
30ml oyster sauce
60ml canola oil
10g brown sugar or palm sugar
Brown rice
Since this recipe promises speed, get the brown rice going first. Rinse the rice twice, then add three cups of boiling water to one cup of brown rice.
Bring this back to the boil, stir in one teaspoon of salt, switch to a low simmer, and fit the lid on the pot. The rice should be ready in 30 minutes or so.
TRY IT: Vietnamese fillet of beef
Fillet the chicken thighs, discarding bone and skin. Cut the fillets into bite-size pieces. Top, tail and deseed the sweet pepper, then cut it into thin slices. Peel and thinly slice the onion. Deseed the red chilli and chop it finely.
Chop the spring onions into 10mm sections, cut on the diagonal. Crush, peel and mince the garlic. Peel the ginger, then cut it into matchstick-sized pieces. Ginger is usually grated as a flavouring agent in a stir-fry, but here it is eaten as a vegetable.
If you are an infrequent stir-frier, buy fish and oyster sauce in small bottles. Otherwise, buy big, store in the fridge and make these into staples. Mix the oyster sauce, fish sauce and brown or palm sugar in a small bowl.
Action!
Heat the oil in your wok, ideally over a gas flame, until very hot. This is crucial; stir-frying is not deep-frying, but closer to searing. Pour in the filleted thighs and sear for 60 seconds.
Monitor the time – it really matters. Add the minced garlic and stir-fry for 60 seconds, then add the spring onions, sliced onion, sweet pepper sections and ginger matchsticks.
Stir well and pour in the sauce mixture. Stir-fry with great vigour and wild cries in the indigenous language of your choice for three minutes, then serve at once with the brown rice. Garnish with a gentle sprinkling of finely chopped spring onion tops.
But what about the salt, I hear you say?
There's more than enough in the two bottled sauces, but if diners desire more, provide light table soya sauce for individual seasoning.
Accompany this delicious meal with cold lager or Cape Ruby.
David Basckin is a freelance -journalist and videographer.