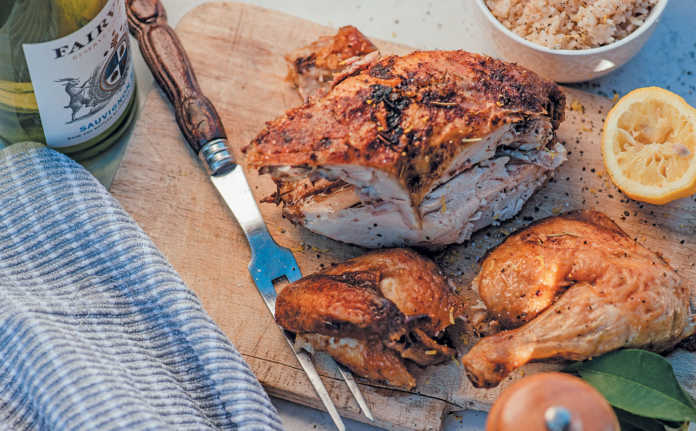 To make a roast chicken with lemon sauce for four diners, you will need:
One chicken weighing
1,5kg to 2kg
1 cup of dry white wine
½ cup of freshly squeezed lemon juice
Zest of the lemon
1 cup of chicken stock
2 cloves of garlic
Sprigs of fresh rosemary
Freshly ground black pepper on demand
Coarse salt on demand
10mm fresh chilli (optional)
This splendid meal enhances all the expectations you and your mouth share about the blending of chicken and lemon flavours.
Part of the reason lies in the presentation, while the additional seasoning elements extend the flavour experience.
Some brief comment on the ingredients: chicken stock can be homemade, but in this case, a high-end, industrially produced stock should do the trick.
The white wine should be dry. (By the way, there are some food writers who insist that the wine you cook with must be the same quality as the wine you drink.)
Wash the fresh rosemary to ensure its free from dirt and insects, and then pull the leaves off the stem.
Finely chop the leaves, and measure one level teaspoon for later in the production.
Peel and chop the garlic.
Now for the chilli: carefully de-pip the chilli, then chop it up finely to add a piquant, high-frequency buzz to the sauce. Of course, if chilli is not your thing, feel free to use a smaller chilli, or omit entirely.
Preheat the oven to 220°C. This is not a typo. Let the raw fowl reach room temperature.
Drizzle olive oil over the chicken plus some coarse salt, then sprinkle a little lemon zest in the interior.
Place the oily fowl in a roasting pan, pour in the chicken stock mixed with the wine and roast for 20 minutes.
Reduce the temperature to 190°C and cook for 40 minutes. Add a little extra wine if necessary.
Remove the chicken from the oven.
Combine garlic, the optional chilli, rosemary, generous pinches of coarse salt and black pepper, lemon juice, and the rest of the olive oil. Stir to combine, then pour the mixture into the roasting pan.
Turn on the grill, and cut the chicken into serving sections, doing your best to keep the skin intact.
Add the chicken pieces to the roasting pan, tossing them gently to coat with the sauce.
Place the pan under the hot grill for four to five minutes, then serve with the lemon sauce, spooned over the chicken. Freshly boiled white rice is all this superb combination requires.
David Basckin is a freelance journalist and videographer.