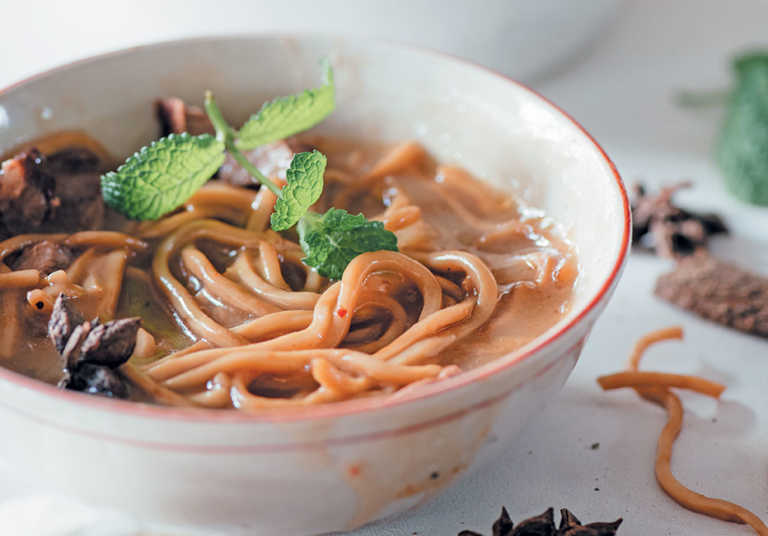 To make a local version of Vietnamese pho for six people, you will need:
1,5kg beef shin
500g thick-cut sirloin
500g oxtail
2 star anise
400mm cinnamon stick
150mm fresh root ginger
3 cloves
1 teaspoon whole fennel seeds
1 teaspoon whole coriander seeds
2 generous onions
2 tablespoons brown sugar
1 level tablespoon of coarse salt
Handful of fresh basil leaves
Half-a-handful of fresh coriander leaves
Half-a-handful of fresh mint leaves
5 spring onions
2 large, red fresh chillies
2 limes
60ml or ¼ cup fish sauce
50ml canola or sunflower oil
But first, a word of warning. This is a long, slow process…
1. In a large stockpot, immerse the oxtail and beef shin in cool water and bring to a rapid boil. After 12 to 15 minutes, skim off and discard the scum.
You might like: Slow-cooked lamb shanks with sweet potatoes
2. While this is going on, peel and thinly slice the onions. Fry these until soft and translucent, then add them to the stockpot along with the grated ginger, whole star anise, cinnamon in one or two pieces, cloves, fennel and coriander seeds, brown sugar, the carefully measured fish sauce (you can add more later if desired) and finally one level tablespoon of coarse salt. Bring this to a rolling boil, then reduce this to a slow simmer for 90 minutes, skimming and discarding the scum as it builds up.
3. Remove the shin and oxtail, and reserve under cover in the fridge. When the shin and oxtail are cool, separate the meat and dump the bones.
4. Meanwhile, back in the stockpot, allow the simmering to continue for three hours, adding a little water from time to time if needed. Strain through a fine conical sieve and dump the solids. Either reduce by boiling or add water to get the volume to 4ℓ. Fit the lid and keep the stock warm.
5. Slice the sirloin into 5mm sections and swiftly stir-fry these for 30 seconds.
Cut the cooked oxtail and beef shin similarly. Add the three meats to the stockpot, adding fish sauce or sugar to taste.
6. Prepare Asian egg or rice noodles, following the quantities and times on the packaging. Serve the cooked noodles in bowls and ladle in the hot beef broth and meats.
7. Coarsely chop the spring onions, chillies, basil, coriander and mint and serve in small bowls so that diners can add these as they wish, along with a quarter of fresh lime per person plus additional fish sauce on demand. This is a special meal, well worth the investment of time.
Enjoy it!
David Basckin is a freelance journalist and videographer.