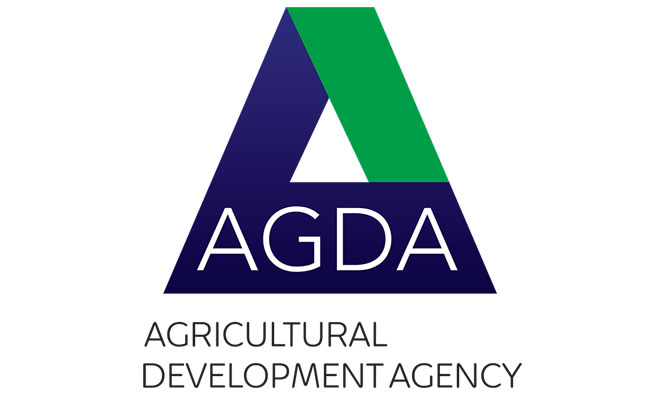 The story of the Agricultural Development Agency (AGDA) continues, and just a year after its launch in February 2020, AGDA is almost entirely operational. So much has happened despite the setback of the COVID-19 pandemic.
In September last year, the first board was appointed, and includes members from various parts of the agriculture sector. Nick Serfontein has been appointed chairperson of the board, with David Mthombeni serving as deputy chairperson.
Leona Archary, a former deputy director-general in the then Department of Rural Development and Land Reform, has been appointed as CEO.
The board's planning for 2021 has just been concluded, and AGDA has adopted a vision of a South Africa with a transformed, sustainable, and growing agriculture sector, which will contribute to socio-economic development and food security.
In addition, a very clear fund mobilisation strategy has been adopted, which will be a key focus in this quarter; access to finance remains one of the major challenges for new entrants into the sector.
AGDA, through multi-stakeholder partner networks, intends to focus on facilitating access to affordable finance, production support and market linkages in 2021. The founding member base has increased significantly and includes commercial banks, commodity organisations, major food companies, agribusinesses, retailers, and mining companies, among others.
"We are really excited to have partners from across the value chain as this helps to create a sustainable foundation for the work of AGDA and helps us to fill the gap that has existed in the development of the black farming sector," Archary says.
"Over the past few months, working with some of our partners, we have already started to pilot certain aggregator models including the establishment of a market for smallholders in Gauteng. This market concept is still being tested, but [is already] proving to be quite successful in supporting growers and traders."
Archary explains that AGDA has been able to broaden its network, and, together with various stakeholders, has been developing and testing "innovative models linked to food security. This is really exciting, especially given the challenges faced during the peak of [COVID-19] as far as food access [is] concerned".
In November 2020, AGDA put out a call for project proposals. Archary says that the response to this was "quite overwhelming. More than 62 projects were received from founding member partners covering various commodities and provinces. These proposals are currently being screened and the final pilot list is being developed, which will be the focus of the 2021 year.
"AGDA is ready for business and is also pleased to announce that [it has] established offices as of 1 March 2021 at the Agri Hub. There is clearly a great sense of excitement to get moving into the implementation phase in 2021, and the board and founder members are committed to working together to ensure the pilot projects are successful.
The agriculture sector has proven its resilience during the COVID-19 pandemic and the team at AGDA strongly believes that, together with the founding members and partners, they will be able to make a positive contribution to growth and social cohesion in the sector. Poverty, inequality and unemployment remain our main challenges, and AGDA is committed to driving partnerships and projects that contribute to improved livelihoods," Archary said.