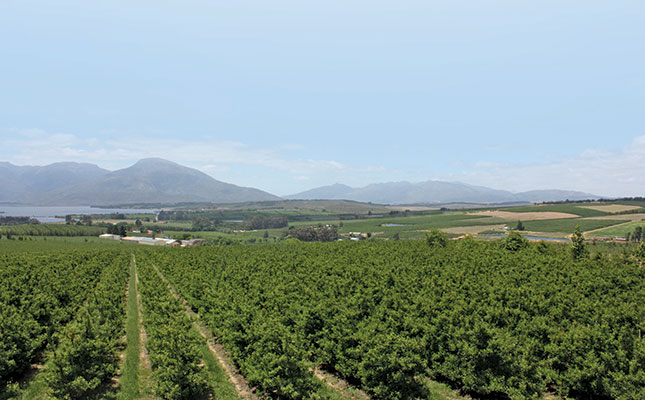 During 2020, Agri SA commissioned a research study as part of its commitment to a stable, investor-friendly and inclusive agriculture sector with secure tenure rights for all.
The study was conducted by Dr Roelof Botha, economic advisor to the Optimum Investment Group; Keith Lockwood, an adjunct faculty member at the Gordon Institute of Business Science (GIBS); and Prof Ilse Botha, an internationally renowned econometrician from the University of Johannesburg.
The study involved a future perspective on the likely macroeconomic impact of a policy of land expropriation without compensation (EWC) via econometric modelling, based on capital formation/GDP ratios gleaned from relevant country case studies.
The research and econometric model was an update of an earlier study commissioned jointly by Kellaprince Properties; Lowveld Trust; Farmers Agri-Care; InteliGro and the Optimum Investment Group.
Several countries that have pursued policies similar to EWC experienced a decline in capital formation in the aftermath of such policy interventions.
Due to the exceptionally strong (and rather predictable) positive correlation between new investment in productive capacity and economic growth, all of these countries were eventually faced with debilitating effects on their economies.
Some of them have subsequently reversed policies akin to nationalisation and, as an inference, their economies have recovered.
The main purpose of the country case studies was to determine a range for the degree to which capital formation/GDP ratios decline in the short to medium terms after the implementation of policies linked to EWC, as well as the subsequent increases in these ratios that occur after the incentive for productive economic activity inherent in private property ownership has been restored.
The necessity for a study
The motivation for a study to determine the impact on the economy of a policy of EWC was born from three major considerations. First, the advantages to society in general of living in a democratic country with a high level of economic freedom are multi-fold.
Measurements of economic well-being per capita amongst different countries unequivocally confirm a strong positive correlation between a combination of economic and political freedom, on the one hand, and living standards, on the other hand.
Second, the productive assets (buildings, machinery, and tractors, amongst others) that comprise the economic term "capital" are very expensive and require private property ownership in order to secure the collateral that is usually required for their financing.
Economic capital and economic output (as measured by GDP) are highly correlated (with a lag) and any disincentive to invest in economic capital formation will serve to erode a country's GDP growth, with a predictable negative impact on employment, taxation revenues and the fiscal ability to provide basic services at all government levels.
A third issue is related to the threat of food insecurity and the interlinked potentially damaging effect on macroeconomic and socio-political stability. When a country is forced to free up scarce resources in order to import food, it is faced with the prospect of balance of payments instability and a depreciating currency, while often simultaneously having to cope with socio-political unrest due to food shortages.
The study avoids the disjointed debate on widely differing opinions on what is perceived as wrong or right with property ownership in the country, but simply points out the results of an objective and quantitative assessment of the likely future effects on the South African economy if EWC was to be pursued.
Results
Key results of the study are:
Scenario 1: A decline in annualised nominal GDP in Q3 2022 of R417 billion (in the event of a 5% decline in capital formation).
Scenario 2: A decline in annualised nominal GDP in Q3 2022 of R616 billion in the case of a 10% decline in capital formation.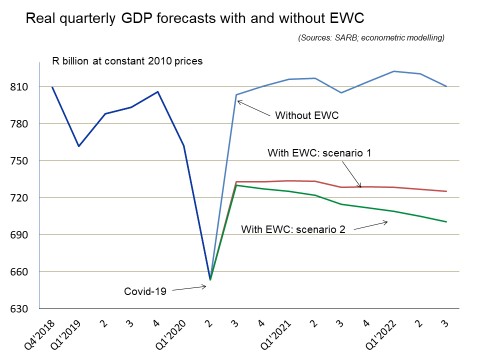 The cumulative loss of economic output over the nine quarters of the forecasting exercise amounts to R735 billion and R1,05 trillion for scenarios 1 and 2 respectively.
Under both scenarios 1 and 2, South Africa will remain in recession throughout the forecasting period (up to Q3 2022), as measured by real GDP growth on a year-on-year basis and the economy will not recover from the COVID-19 pandemic between 2021 and 2022 as anticipated by the National Treasury and the International Monetary Fund.
Scenario 1 could lead to a loss of more than 1,4 million jobs.
In conclusion, the study confirms imminent socio-economic disaster for South Africa in the event of EWC being pursued. Politicians and bureaucrats cannot repeal the fundamental laws of economics, try as they might.
Economic capital, which is an indispensable prerequisite for economic development, job creation and growth, needs to be nurtured and incentivised, otherwise it simply moves to greener pastures.