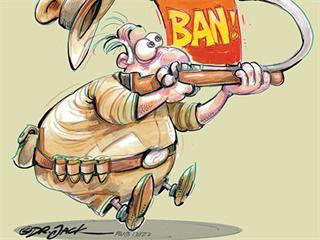 Botswana's ban on commercial hunting on state land from January next year, due to growing concerns about the apparent decline in wildlife populations in the country, has led to much controversy. Hunting will continue on private game ranches, most of which are in the Ghanzi area and along the Limpopo River in the Tuli region. But these ranches will suffer because closing the state-owned hunting concessions will create a negative perception of Botswana among international hunters.
Photo tourism not ideal
A good portion of the private industry's clientele visit that country primarily because of the remote concession areas where they hunt elephant, buffalo and a limited variety of plains game species. These clients schedule plains game expeditions on the private ranches before or after their elephant hunts. In 1977, Kenya imposed a hunting ban, and this has failed to protect its wildlife.
A similar threat now looms over Botswana, for several reasons. To begin with, few hunting concessions in the dry regions, which have low game densities, have any value as photo safari destinations. Photo operations function best where there are plenty of animals. So, banning hunters will result in dormant wildlife management areas. In the past, hunters covered every square metre of their concessions, automatically patrolling the land and deterring poachers.
In contrast, photographers focus on the 'hot' game viewing zones covering much less ground. Vast tracts will become prime zones for harvesting commercial bush meat, subsistence poaching, ivory poaching and poaching for large predator bones.
Then there's the preoccupation with iconic species such as elephant – a trend that is detrimental to other species. Hunting keeps elephant numbers in check and there is no scientific evidence it has had a negative impact on elephant populations.
Communities that previously benefited directly from hunting operations through land rental payments will simply become impoverished.
The hunting safari camps not only provide employment and health care for people, but plough their lands every year, as well as provide them with meat from trophy hunts, a vital food source in the area. With the hunters gone, livestock numbers will increase in the defunct concessions, leading to an increase in predator-livestock conflict, one of the greatest threats to large predators.
Communities will also become less tolerant of their crops being raided by ever-increasing elephant numbers, compounding elephant-human conflict as well. Handouts from the government or animal rightists will not replace the benefits these communities received from hunting. As the government will be unable to sustain a long-term compensation scheme, foreign NGOs are likely to fill the vacuum, resulting in wildlife authorities relinquishing their responsibilities.
Sustainable utilisation
The Professional Hunters' Association of South Africa (Phasa) believes that animal rightists were behind the closure of hunting concessions in Botswana. These groups are also active in South Africa, where they use emotional and moral issues to gain support. They constantly place pressure on political leaders to stop all forms of sustainable utilisation, and target trophy hunting through showing negative images to disgust audiences.
Uninformed people don't know that SA's wildlife boom is based on sustainable utilisation. Trophy hunting played a pivotal role in increasing rhino numbers, for example. Yet, the anti-hunters have problems with SA's successful conservation model, including fenced ranches. They are intent on creating the perception that hunters decimate wildlife and believe donations will be enough to protect wild animals. State-owned reserves that have stopped hunting because of the criticism are already missing the income from hunters. On the other hand, many privately- owned photographic reserves do allow limited hunting to boost their conservation management budgets, but prefer to hide this.
The challenge for animal rightists is that hunting in SA takes place mainly on private land, where opportunities abound for sustainable hunting and ecotourism to benefit poor communities. The food alone that can be provided through hunting wildlife has huge potential. In addition, our current government supports sustainable utilisation as a conservation tool.
The views expressed in our weekly opinion piece do not necessarily reflect those of Farmer's Weekly.