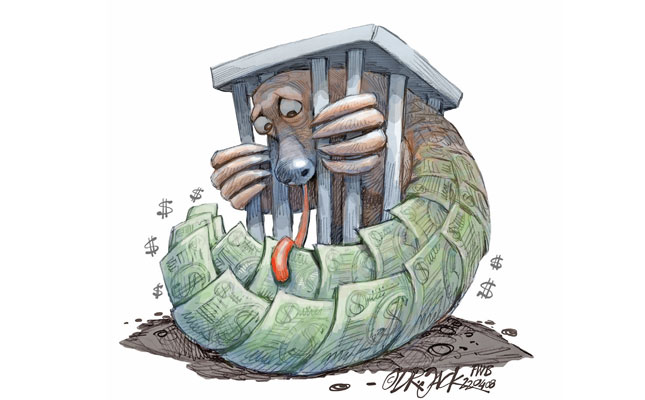 Some wildlife trafficking flows feed mainly illicit retail markets, while others feed into the licit trade. But legal industries can be contaminated by the introduction of illegal supply, and this vulnerability must be assessed to understand the criminal market.
Each case study presented in this report lends special insights into the way that wildlife trafficking is perpetrated, and suggests the drivers and dynamics of the criminal trade. Illicit wildlife markets, and the traffickers who feed them, can be highly specialised.
These markets are a reality, but they cannot account for the volumes of wildlife illegally harvested each year. Based on the locations of the largest seizures, border town bazaars and back alleyways do not appear to be the venue where tons of fish, timber and other wildlife products change hands; these volume commodities are usually marketed to specialists.
With regard to trafficking, there have also been seizures that suggest some groups are involved in smuggling multiple species. In just the past few years, detection of large quantities of ivory and pangolin scales in the same shipment indicate a clear confluence of these markets.
But these are the exception rather than the rule and, based on available information in the UN Office on Drugs and Crime's (UNODC) World Wildlife Seizure database, most shipments are of a single species.
It is possible for the same trafficking group to move a variety of commodities in separate shipments, of course, but the relative novelty of mixed shipments suggests that, as with dealers in destination markets, traffickers appear to specialise, trading in particular commodities.
Combating wildlife and forest crime has not usually been seen as a priority when addressing organised crime. Legislation may be weak and the level of detecting and addressing wildlife crime may be very low because of limited law enforcement capacity.
Criminals tend to exploit legislative and enforcement gaps in countries that are less capable of addressing them, with the result that wildlife crime is displaced to these countries. This is the case, for example, with pangolin-scale traders who choose to store their stock in the Democratic Republic of the Congo, as opposed to other source countries, due to a perception of lesser capacity for interdiction.
Trade in wildlife and wildlife products is moving online. For example, the illicit pet reptile trade increasingly involves the use of social media platforms. Criminals can switch platforms rapidly whenever enforcement action is taken. This trade is particularly difficult to address due to its hidden nature, inconsistent regulatory frameworks, and limited specialised law enforcement capacities.
Captive breeding corruption
When no viable wild population exists, captive breeding has been seen as an effective solution for the preservation of species threatened with extinction. However, captive breeding can be exploited by organised crime groups.
Several countries allow captive breeding for commercial purposes, and with this comes the responsibility of ensuring that these businesses operate in line with national regulations.
There is evidence that criminals have used some licensed breeding facilities to illegally supply the illegal trade in exotic pets, luxury products and ingredients for traditional medicine. For example, detection of illegal tiger products in countries with small or no remaining wild tiger populations but large captive populations strongly suggests that the illegal trade involves these tiger facilities.
A common theme in the illicit trade of ivory and rhino horn (and generally with all illicit wildlife trade) is corruption in the form of bribes. Corruption has been found to be a critical enabler of the illicit wildlife trade; it takes place at the sourcing, transit and export stages, and involves public- and private-sector abuse of power and trust.
It can be ad hoc, involving smaller amounts of money and lower-level officials; or systemic, involving larger amounts of money, higher-level officers, and pre-planning. The case of the Shuidong Connection, documented by the Environmental Investigation Agency, showed that bribes can account for 4% to 10% of the final (wholesale) sales value of ivory in Asia.
The overall bribes paid in that single case amounted to between US$90 000 and US$210,000 [between about R1,3 billion and R3,1 billion].
In 2012, along the Vietnam-China border, an estimated US$18 000 to US$30 000 [R267 000 to R445 000] a day was given out in bribes to border officials to allow ivory to cross borders illicitly. Moreover, several member states reported cases of law enforcement officials involved in trafficking to the Eastern and Southern Africa Anti-Money Laundering Group (ESAAMLG).
The Financial Intelligence Unit of Namibia documented a case in which 18 rhino horns weighing a total of 43kg were found in the luggage of a passenger who arrived from Namibia in South Africa and was about to board a flight to Hong Kong, China. A Namibian police officer has been charged with defeating or obstructing the course of justice for failing or omitting to detect and stop the transport of the horns.
A court case documented that fraudulently acquired hunting permits were used to divert rhino horns to markets in the Lao People's Democratic Republic and Thailand. The ESAAMLG noted that the authorities issuing such hunting permits could be subjected to corrupt practices. Corruption can thus occur at any level of the supply chain and involve many different actors.
In 2018, the Organisation for Economic Co-operation and Development collected open-source data from four elected countries (Kenya, Uganda, Tanzania and Zambia) and identified the role of corrupt actors in reported cases, concluding that corruption may go far beyond lower-level police officers and park rangers.
In the cases analysed, those involved in law enforcement operations (police, military and customs) were the government officials most involved in corrupt practices. Officials responsible for administration were also involved, but at a lower rate. Only a small portion (7%) of corrupt officials were park rangers.
Captive-bred lions
Sport hunting of lions has been a mainstay of some South African private game reserves for decades. As late as 2000, more than 90% of legally exported lion trophies worldwide were wild-sourced, according to the CITES Trade Database, but concern about wild sourcing as well as the profitability of farming other big cats led game ranchers to breed lions for their reserves.
Captive lion populations made possible the hunting of farmed and released animals. By 2015, the total number of lion trophies exported had doubled, but 93% of these trophies came from farmed animals. [In May 2021, Minister Barbara Creecy of the Department of Environment, Forestry and Fisheries announced government would stop issuing permits for lion breeding, and begin revoking existing permits. Little progress has thus far been made on this].
Around 2007, further scrutiny of the adverse effects of trophy hunting on lion conservation and restrictions on trophy exports put pressure on game ranchers to find new outlets for their stock.
These included the international sale of lion bones as a supplement to tiger bones in the trade. These restrictions culminated in the 2016 US trophy import ban, which significantly affected the sport hunting business in South Africa.
A survey of South African lion breeders carried out in 2017 revealed that 79% of respondents had been affected by the US trophy hunting import ban, and that 21% of the respondents had decided to compensate by focusing on the lion bone trade.
According to the CITES Trade Database, most legal lion exports between 2010 and 2018 fell into three categories:
Live animals, which were shipped to virtually every country in the world;
Hunting trophies, which were also exported to many countries;
Skeletons, bones and bodies, which were exported in commercial trade to Southeast Asia.
Between 2007 and 2017, about half the legal live trade, over 80% of the trophies, and virtually all bones and bodies of lions were exported from South Africa. Fieldwork by the UNODC in South Africa suggests that exporters sometimes illegally combine tiger bones with lion bone exports, the two being difficult to distinguish.
The views expressed in our weekly opinion piece do not necessarily reflect those of Farmer's Weekly.
This is an edited excerpt from a report by the UN Office on Drugs and Crime titled 'World Wildlife Crime Report: Trafficking in protected species'.