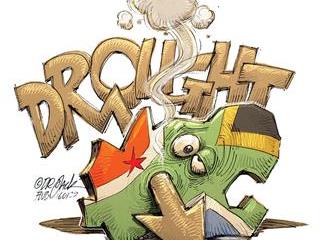 I believe that South Africans were, until early December last year, unaware of the seriousness and extent of the drought. The persistent heat waves in December and January, as well as a greater focus on the drought and related matters by the media, heightened the realisation that we have a climatic calamity on our hands.
The first effects of the drought felt by consumers were the increasingly serious water shortages. Initially, these were more evident in rural areas, but they then became a reality in urban communities. The country had adequate food stocks up to December, but we shall start to experience limited shortages of fruit and vegetables in the near future.
After April or May, maize and oilseed product prices will start to rise as more and more raw materials for grain and oilseed are imported. Abattoirs are currently running at full capacity as marketable livestock is slaughtered rapidly as farmers try to avoid feeding animals and prevent deaths due to hunger and thirst.
Meat stocks will therefore be sufficient for the next few months, but consumers can expect serious price increases from about August onwards when meat stocks start to run out. The impact on consumers will be twofold: firstly, the basic availability of agricultural food products will be in jeopardy until late in the year, provided good winter and spring rain falls. Secondly, the prices of agricultural products will rise sharply, with some experts predicting increases of 20% and possibly higher.
Because many raw materials will have to be imported, the performance of South Africa's currency against those of our supplier countries will largely determine the extent of price increases.
Bold leadership required
Due to the sluggish economy, this year will be challenging for all South Africans. It will be exacerbated by rising unemployment, a weakening rand, the serious absence of investment in the country's production sectors, and enormous state expenditure on education, the civil service and several badly managed state enterprises.
Much of this will change, of course, if serious and bold leadership steps are taken by our politicians 'to do the right thing' and not play at political expediency. Should we simultaneously get a change for the better in our climatic situation by spring, we can look forward to a more bullish end to 2016. The single most serious long-term challenge will be to rehabilitate the productive capacity of the agricultural sector.
Livestock grazing has largely been devastated and it could take from 18 to 24 months for the veld to recover to its optimum capacity. Farmers are in dire financial straits and many will take years to recover. The impact of the drought on small-scale and emerging farmers, new commercial farmers, and farmers in tribal areas is particularly severe. It is difficult to see how they will be able to recover without substantial financial, technical and management support from government for up to five years.
Most rural towns and villages depend to a large extent on agricultural activities in their surrounding districts, and small and other businesses will also start to experience serious strain. My fear is that as a result of the current situation, unemployment will rise significantly.
Drought across SADC region
The current drought is, if anything, worse in the rest of the SADC region. Zimbabwe is virtually without maize stocks for the short term and the region as a whole is experiencing water supply problems. The major river systems have started to run dry, and Zambia and Zimbabwe can generate only limited hydro-electricity from the Kariba Dam due to low water levels. As a result, Zimbabwe will probably require large-scale international aid to survive.
The assistance that could have been forthcoming from South Africa, as has happened in the past, is highly unlikely to materialise due to this country having to take care of its own needs.The massive grain imports required are likely to involve the whole of Southern Africa. Sourcing, procuring and distributing these imports will place considerable strain on the infrastructure of the region and extraordinary efforts will be required to get sufficient volumes of imported raw materials to processing plants.
A new path
Apart from the specifics already mentioned, the South African and Southern African agricultural economies will require a major rethink to set a course for the future once the region starts recovering from the drought. Aspects such as efficiencies, productivity, the role of labour, mechanisation, rural social infrastructure and support, water utilisation, and risk mitigation strategies will need to be addressed. However, the most important aspects that need revisiting are more appropriate policies, and where necessary, legislative interventions.
Perhaps the time has come for SADC countries to create a common vision and strategy to ensure food security for the region. Despite ideological and political considerations, Southern Africa's agriculture must be ring-fenced in such a manner that it can function without political interference. Agriculture is a highly technical sector and can only function optimally if structured to produce the maximum quantity of food.
Scope of disaster
On the occasions when I have had the opportunity to interact with government, I have seen a keen appreciation of the fact that we are facing a serious problem. As far as the enormity of the problem is concerned, however, I think most people, including government, have only very recently started to realise that we are facing a crisis.
Farmers in the affected areas have been keenly aware for some time that the situation is extremely serious and many have taken prudent steps to limit their risk. My observation, however, is that even these farmers have been left flabbergasted by the extent of the drought and how little they can do to remedy their situation.
Nobody, including government, could prevent the consequences of this drought due to its extensive nature. South Africa, however, has always been prone to droughts. Existing disaster relief policies should have been overhauled long ago and updated regularly to cater for changing circumstances, such as climate change. We need to adjust our approach and policies continually in line with the latest available data.
The truth is that South Africa has not been particularly creative in terms of water conservation and storage and we shall pay dearly for this in times to come. Our water storage infrastructure needs to be far more extensive, and maintained to the highest standards. Our growing population and its need for increased food production relies heavily on water that is, at the best of times, a scarce resource.
Government should declare the drought a national disaster. This will allow a number of emergency measures to come into effect, which will help both producers and the general population, especially rural communities. Government should also urgently review its projects and expenditure and suspend everything that is not urgent and important.
The situation is so serious that, if necessary, Parliament must legislate that exemption be granted from the otherwise stringent requirements of the Credit Act, for example. Financial institutions are seriously curtailed when granting relief that can greatly assist in alleviating their clients' debt burden. This would mean that government would not have to further burden itself with expenditure or guarantees for financial institutions.
Hunger and loss
I am saddened by the emotional and psychological impact of the drought on our farmers. There are tragic stories of farmers taking their animals to local auctions, not receiving a single bid, and simply leaving them behind because they cannot afford to transport them back to the farm and feed them. In some cases, even breeding cows are culled because there is no longer water or food left, and no money to buy fodder.
It is reported that in some rural communities, children take turns to eat – with siblings eating on alternate days. These tales are reminiscent of those from the Great Depression in the 1930s. These effects on our people will stay with us long after the drought has passed. Never in my 66 years have I been so keenly aware of the need for us as people of the land to seek the Lord's mercy and divine intervention.
I do believe, nonetheless, that there will be a better tomorrow. The rain will return and circumstances will improve. And we shall be much wiser and better equipped to face the future.
Email Schalk Pienaar at [email protected].