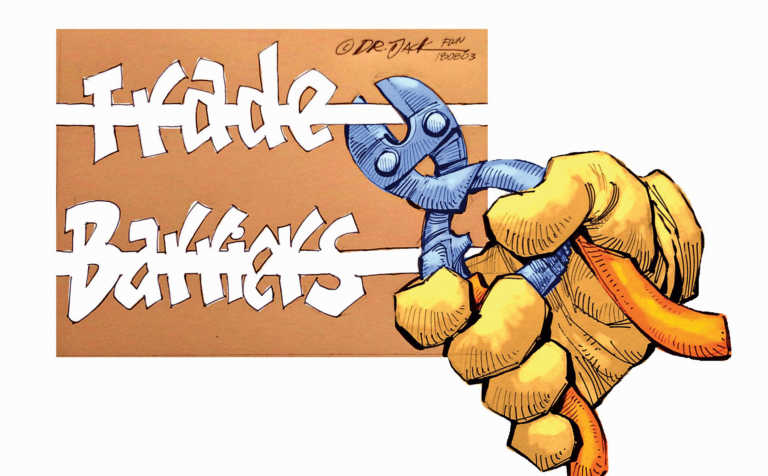 In July, South Africa became the 49th nation to sign Africa's Continental Free Trade Agreement (CFTA), which seeks to create a single continental market. With eight African regional economic communities on the continent, integration is difficult, resulting in a low volume of intra-African trade.
The CFTA covers trade in goods and services, investment, intellectual property rights and competition policy. It moves beyond the conventional free-trade agreement, making it an instrument for fostering regional economic integration in Africa and harmonising norms and regulations related to services and trade.
The agreement is an opportunity to boost trade within the continent and attract investment for social and economic infrastructure, thus creating capacity for adding value to agriculture and mining products. Agriculture accounts for 32% of Africa's GDP and employs 65% of the labour force.
The United Nations Conference on Trade Development (UNCTAD) argues that the CFTA has the potential to increase the continent's annual income by US$16 billion (about R213 billion) under an ambitious policy scenario that assumes a full tariff elimination by all 55 member states of the African Union.
The agreement could increase employment by more than 30% over the next decade, with the agricultural sector among the biggest winners.
Some losses, but an overall gain
Income and employment gains are great incentives for individual African states to ratify the CFTA, but tariff revenue losses could delay its implementation and prevent it from reaching its full potential.
For example, the Democratic Republic of Congo could lose 35% of its tariff revenue due to the CFTA, while Zimbabwe could lose 23% and Sierra Leone, 10%. The Southern African Customs Union could lose 2% of its tariff revenue.
Despite the potential loss of tariff revenue, the net benefit of the CFTA would be substantial in terms of economic integration and job creation. To realise its full potential, African states need to look beyond tariff reductions, particularly for agricultural products.
Some scholars argue that tariffs are less trade-distorting for agricultural commodities than non-tariff barriers (NTBs). However, even under the World Trade Organization agreement, NTBs are the greatest impediment to international agricultural trade.
Africa has made progress in eliminating trade barriers and facilitating trade, but infrastructure still has to be improved at borders and ports to reduce trade bottlenecks, and simple and efficient customs procedures must be created to reduce cross-border delays and trade costs.
The average applied tariff rate in Africa is 8,7%, but NTBs increase the cost of trade within Africa by an estimated 283%. This is due to delays at border posts, copious documentation, endless road blocks and unpaved roads.
United Nations Economic Commission for Africa reports show that the time it takes to comply with border crossing in some African countries could be as high as 600 hours.
Looking at specific countries, in Angola the waiting time is over 236 hours; in Congo about 520 hours; in Nigeria about 140 hours; and in South Africa, just below 100 hours.
The cost of border compliance could be as high as US$2 000 (nearly R27 000). Kenya is among the African countries with the lowest time and cost to comply with border-crossing, indicating the ease of doing trade in Kenya.
Because many agricultural products are perishable, they are particularly responsive to improvements in customs clearance times and logistics. Informal trade is strong in Africa and largely benefits women. Across the continent, women make up 70% of informal cross-border trade, dealing mainly in agricultural goods.
It is estimated that about 20% of Benin's GDP is based on informal trade with Nigeria alone. Up to 20 000t of maize between Uganda and Kenya and 15 000t of rice between Tanzania and Rwanda is in the form of informal trade on a monthly basis during harvest times.
The manner in which informal traders are incorporated into formal value chains, especially in the agricultural sector, is crucial, as failure to incorporate informal traders could exclude women from participating meaningfully in African economies.
The participation of women in formal trade platforms will also improve the fight against poverty and gender discrimination.
Finally, the manner in which African states resolve the NTBs that are distorting intra-African trade will determine the ability of the CFTA to realise its true potential.
Key to its successful implementation is a coordinated effort to improve trade facilitation and trade-related infrastructure across the continent.