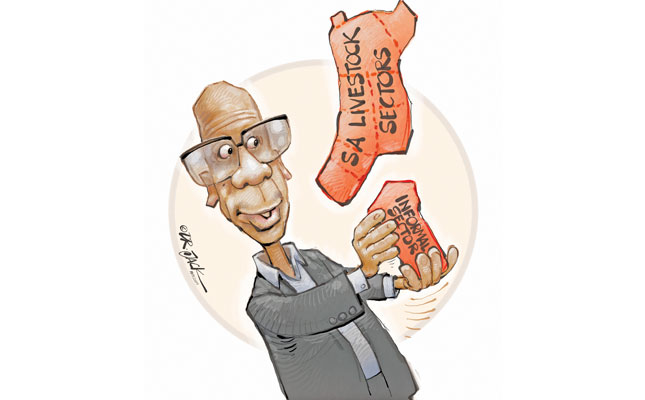 Much has been achieved in the livestock sector in recent years, but even more can be done if we work together. In the words of [former] president Nelson Mandela, 'unity is strength'. We all need to come together and focus on a core vision for the sector.
Unity is relevant not only to South Africa's Agriculture and Agro-processing Master Plan, but also to the continent as a whole. Sub- Saharan Africa, for example, is home to about 14% of the world's livestock, yet it only produces about 2,8% of its meat and milk.
We need to rectify this situation. Our region has this wonderful resource at our disposal, but it is not being utilised efficiently. The South African agriculture sector showed glimpses of growth over the second quarter [Q2] of 2021. Statistics South Africa [Stats SA] reported that the sector grew 3,1% in Q2. This was on the back of the 13% growth achieved in 2020. Clearly, agriculture is on the rise.
Livestock sector growth
The year 2016 marked an important turning point for South Africa's beef industry when it became a net exporter of this commodity. Exports nearly doubled from just under 20 000t to 39 000t. This achievement is indicative of improved efficiency throughout the value chain.
In monetary terms, the livestock industry contributes 48% to the gross value of the agriculture sector, which was recorded at R317 billion by Stats SA in 2021. Let's bear in mind, too, that this growth was experienced within the context of climate change, disease outbreaks, and fluctuating economic conditions.
So, how can we improve the livestock sector even further? We need to bring smallholders on board!
Stats SA's latest general household survey states that there are 600 000 smallholder cattle owners in the country. This is a huge number. We have 2,3 million subsistence farmers in our country and about 40 000 commercial farmers. The question we have to ask is: how do we get those smallholder farmers into the commercial livestock sector?
We need their participation to create jobs, improve the economy and contribute towards South Africa's GDP.
Strength in unity
Only in unity will we be able to tackle international trade and other global challenges. Since the dawn of our democracy in 1994, inclusive growth and competitiveness have been at the centre of South Africa's development policy. It is an issue that has always been part of the conversation.
If we embrace each other, we will find that there are a number of bright opportunities on the horizon. One is the African Continental Free Trade Area agreement. Another is the liaisons that South Africa has with China, specifically in terms of the Forum on China-Africa Cooperation. These initiatives provide the basis of growth for the beef export market.
Consequently, entrepreneurial opportunities are opening up for small and medium businesses to penetrate the domestic market.
It is crucial, however, that the livestock sector adopt a dual approach to ensure we have mandated and private food safety standards. This is important, as market access today involves two separate aspects: basic access to the market and access to the shelf.
Both need to be taken into account, because if you have access to the market, but no access to the [retailer/sellers], you haven't achieved the goal of growing the sector.
Moreover, market access involves both public and private standards. Regulation is needed at the wholesale, retail and food services levels.
The livestock sector is doing relatively well when it comes to inclusivity, and this is why we should ensure that all producers can utilise the opportunity to grow the local market and be able to export their products. But, how do we ensure that all designated groups of smallholder farmers within the sector, especially the youth, women and people living with disabilities, penetrate and partake in the growth of the sector?
One of our ambitious aspirations at the Department of Agriculture, Land Reform and Rural Development is to lower the average age of our farmers from 62 to 42 years. At the same time, we need to look at ways in which smallholder livestock owners can be commercialised. That is how we should be growing this sector.
A plan for Africa
The African Union (AU) has developed strategies for the utilisation of the continent's livestock. It is important that Africa moves in unison to ensure inclusivity and to utilise its livestock resources in order to gain access to world markets. In my opinion, all member states of the AU, including South Africa, need to develop a strategy focused on several critical areas.
Animal health
We need to strengthen our animal health policies and institutional frameworks to gain market access. This involves reducing the risk of diseases and their impact on animals, humans and the environment. We also need to study the levels of interaction between humans, animals and the environment.
Any intervention should be implemented from a One Health perspective, an approach that recognises that the health of people is closely connected to the health of animals and our shared environments. The importance of this was emphasised here in South Africa earlier in 2021 by outbreaks of diseases, some of which were zoonotic.
We also have to strengthen our animal health interventions to address current and emerging issues of public health concern.
Market access
South Africa needs to improve its capacity to gain access to markets and ensure that it trades optimally with its livestock. This is an area that will become even more important in the coming years. We need to ask ourselves how we utilise the genetic resources we have in South Africa to create value for the farmers of our country.
Partnerships
Partnerships are crucial in this endeavour. Government cannot do it alone, and neither can farmers or business people. Without partnerships, we cannot derive optimal economic value from our livestock.
Technology
The Fourth Industrial Revolution is a reality. Do we have the appropriate innovation and technology within the sector? These can be powerful drivers of competitiveness, and users are also attracted to industries that use technology and innovation. We need institutional arrangements that can ensure economies of scale to guarantee technology uptake and market access.
Don't forget the basics
When looking at all of these issues, however, we need to ask (and indeed, government is asking) whether it is not time to go back to the basics of agriculture. By this, I mean ensuring that the straightforward things are carried out in the right way.
To take one simple example, there is currently an excellent system of dip tanks in communal areas; this could be utilised even further.
Another example is record-keeping.
South Africa's livestock farmers need to keep proper records, manage their herds' health properly, and ensure that a traceability system is in place. The brand image of the livestock industry hinges on its reputation, and simple record-keeping at farm level could make all the difference nationally.
In countries such as China, South Africa has a good reputation in terms of meat management. And I'm sure that many South Africans who have ordered a steak overseas have found themselves missing the fine quality of our home-grown steaks. It is this quality that we need to maintain.
Government is currently working with the industry to develop a [national] livestock identification and traceability system based on our collective belief that this system will galvanise the industry in our country. Once it is in place, we will be able to fully access other countries as potential markets.
The views expressed in our weekly opinion piece do not necessarily reflect those of Farmer's Weekly.
This article is an edited version of Mooketsa Ramasodi's address given at the 2021 LRF Stockman School, which was held at the Aldam Holiday Resort and Conference Centre in the Free State. The theme was 'Critical success factors for an inclusive and profitable livestock value chain.'