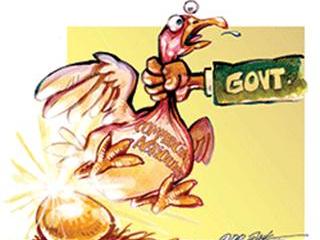 The much debated subject of land reform and empowerment in the agricultural sector is one of the most glaring failures of democratic South Africa to date. Leaders have been making plans and drafting documents on land reform for more than 18 years, but little progress has been made.
We need a pragmatic and realistic outlook on land reform if we are to redress the injustices of the past in our modern society. Locking people into ancient production methods on small- scale farms is not empowering them to make a living. New farmers need to be able to farm and grow into commercial farmers.
For 18 years government has blamed its failure on various convenient and popular scapegoats including unwilling commercial farmers and inflated land prices. While the criticism of farmers continues, I have a long list of disgruntled farmers who have concluded property sales with the Western Cape Department of Land Affairs, but are yet to be paid.

Taking the right action
The time has come for our national leaders to look at themselves for the failed state of land reform and agricultural transformation. We have been waiting for 30 months for the finalisation of the latest document on land reform and it is still only a Green Paper. In the meantime, empowerment programmes are successfully driven by various commodity organisations and private commercial enterprises. The commercial sector is quietly getting on with the job, often with no recognition or support from government.
It is high time that South Africa's leaders realise that agricultural empowerment and land reform can only succeed if we have a strong commercial sector. It is impossible to empower new farmers into an unprofitable sector. Government has a very important supportive role to play in this regard with:
Relevant research on crops and production methods needed.
Research on climate change needed.
Market access to existing markets, and new market opportunities to be negotiated.
An animal health and disease control regulatory framework that is credible in the eyes of our export markets maintained.
Agricultural policy structured to attract investment.
Policies that will protect our natural environment and our scarce water resources needed.
What SA does not need are President Zuma's proposals on agriculture and land reform voiced at the recent African Farmers Association congress in Pretoria. His lack of agricultural knowledge and understanding will further damage investor confidence in the sector. His proposal that local farming communities should make a 50% financial contribution towards buying 20% of agricultural land in that area for empowerment purposes is breathtakingly flawed.

Halting successful projects
Shared equity schemes have proven to be the most successful models of agricultural land reform. Currently, close to 100 of these schemes exist in the Western Cape, and Gauteng has six. Government's response to shared equity schemes has been to place a moratorium on them in 2009. After much effort and lobbying the moratorium was lifted but, due to the focus on recapitalisation, no new schemes have been funded since 2010.
ANC secretary general Gwede Mantashe reprimands farmers for their unwillingness to transform agriculture, but many commercial farmers are eager to empower their farm workers through shared equity schemes. Mantashe should take note of new farmers desperate to farm, who cannot get water rights to their properties.
There is however a glimmer of hope. President Zuma recognises the importance of agriculture in our economy. The National Development Plan estimates that agriculture can create close to a million additional jobs. Let us therefore focus on the task at hand and create a prosperous agricultural environment. Government should work with the commercial agricultural sector which has shown willingness and goodwill from the start.
If government would honour basic service delivery mandates, and leaders would stop sending conflicting, investor-hostile messages to the world, the agricultural sector could do what it does best: create jobs, protect the environment, grow the economy and provide SA with food security.
The views expressed in our weekly opinion piece do not necessarily reflect those of Farmer's Weekly.