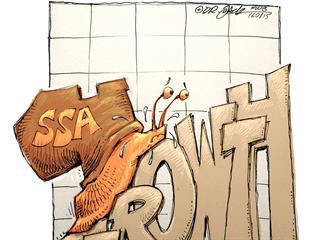 Economic activity in sub-Saharan Africa decelerated from 4,6% in 2014 to 3,4% in 2015, the weakest performance since 2009, due to external shocks and domestic constraints. The slowdown was most pronounced among oil exporters.
In Nigeria, the region's largest economy and oil exporter, growth slowed to 3,3% in 2015, down from 6,3% in 2014. Growth moderated in several mineral and metal exporters, including Mauritania, South Africa and Zambia. In South Africa, the economy expanded by 1,3%, compared with 1,5% in 2014.
With the Ebola crisis receding, activity rebounded in Liberia but remained weak in Guinea and Sierra Leone, with GDP falling sharply in Sierra Leone as mining production contracted. Activity weakened substantially in Burundi and South Sudan amid political instability and civil strife. However, in other countries, including Côte d'Ivoire, Rwanda, and Tanzania, growth remained robust, reflecting lower exposure to the commodity slowdown, and tailwinds from large-scale infrastructure investment.
Impact of low commodity prices
Following their sharp decline in 2014, commodity prices weakened further in 2015. The prices of oil and metals declined substantially. Those of some agricultural commodities, such as coffee, fell moderately, although the prices of cocoa and tea showed small gains. The region's pattern of exports makes it particularly vulnerable to commodity price shocks. Lower commodity prices obliged a fiscal tightening in several exporters, causing a sharp slowdown.
Exporters of agricultural commodities experienced a less pronounced slowdown in activity as a result of the relatively moderate decline in the price of exports. Low commodity prices reflected weak global demand for raw materials, including from large developing countries where growth had continued to slow.
Most importantly, the region has had to deal with a pronounced economic slowdown in its major trading partners. Sub-Saharan Africa's external trade has undergone a shift in direction towards China, driven by the latter's demand for primary commodities, and away from traditional advanced country trading partners.
Today, it is sub-Saharan Africa's largest national trading partner, and as such, its rebalancing away from raw material-intensive sectors has direct implications for the region. In addition, foreign direct investment flows from China have grown rapidly in recent years and are important for countries such as Zambia and South Africa, although the US and Europe remain the largest sources of foreign direct investment in the region.

Regional challenges
In 2015, the external headwinds of low commodity prices and a slowdown in major emerging markets were compounded by domestic problems. These included infrastructure constraints, especially power supply, in several countries.
In South Africa, power supply bottlenecks, compounded by drought and difficult labour relations, weighed heavily on growth. Insufficient power supply emerged as a leading constraint to activity in a number of frontier markets including Botswana, Ghana and Zambia.
In countries such as Botswana and Zambia, shortages of hydroelectric power were due to drought; in others, such as South Africa, they were driven by underinvestment in new capacity. In countries such as Ghana and Nigeria, power supply problems had their origin in a lack of reform to encourage private investment.
In some countries, the growth slowdown was associated with mounting fiscal vulnerabilities. In others, fiscal deficits are larger relative to GDP than they were at the onset of the global financial crisis. As a result, government debt ratios have continued to rise. In South Africa, by contrast, the current account deficit narrowed on the back of export growth.
In addition, the depreciation of the rand partly offset the decline in commodity prices. High fiscal and current account deficits, combined with strong demand for the US dollar, kept currencies under pressure. Currencies of commodity exporters and frontier-market economies saw sharp depreciations against the US dollar.
However, because of inflation, the average movement in real effective exchange rates across the entire region was relatively small. The Ghanaian cedi weakened the most – by more than 30% – largely due to loose monetary and fiscal policies. It was followed by the rand.
Outlook 2016
Sub-Saharan Africa faces a challenging short-term outlook. Commodity prices are expected to stabilise but remain low through 2017. The normalisation of US monetary policy is expected to tighten global financial conditions.
Although governments are taking steps to resolve power issues, supply bottlenecks will most like persist. These point to a weaker recovery in 2016 than previously anticipated. Economic activity in sub-Saharan Africa is expected to pick up to 4,2% in 2016 and to 4,7% in 2017/2018. This assumes that commodity prices stabilise and electricity constraints ease. There is, however, much variation within the region.
Activity is expected to remain subdued in the region's three largest economies. In Nigeria, power and fuel shortages, and fiscal consolidation are expected to diminish gradually. Growth is expected to remain weak in South Africa as inadequate power supply, weak business confidence, difficult labour relations and policy tightening slow activity. In Angola, government spending remains constrained while elevated inflation has weakened consumer spending.
Among the frontier markets, rising oil production and diminishing fiscal and current account imbalances are expected to help lift growth in Ghana. However, in Zambia, low copper prices, compounded by regulatory uncertainty and power shortages, will curtail copper production, export and investment.
Despite pressure on the shilling, Kenya is expected to grow robustly, supported by large-scale infrastructure projects including the expansion of the railway system, which should help boost domestic trade, and a new port.
Low-income countries are expected to continue to sustain high GDP growth. Many have limited exposure to the commodities experiencing the most severe decline in prices. Large-scale investment projects in energy and transport are ongoing, consumer spending, boosted by lower fuel prices, remains robust and despite low minerals prices, mining output is set to rise in several countries.
Public investment, consumer spending and mining production will help Côte d'Ivoire, Ethiopia, Mozambique, Rwanda, and Tanzania sustain rapid growth in 2016 and beyond. Several low-income countries in the West African Economic and Monetary Union should see steady growth, helped in part by the stable currency peg to the Euro.
Domestic and external risks
The balance of risks to the outlook is tilted to the downside. On the domestic front, political upheavals and conflicts in Burundi, Burkina Faso and South Sudan suggest that political risks associated with the electoral process will remain an issue for the region in 2016. Security risks tied to Boko Haram insurgencies are significant for Cameroon, Chad, Niger, and Nigeria, while terrorist threats remain a concern for Kenya and Mali.
These could generate greater political instability if they were to escalate. The assumption that electric power constraints will ease might prove too optimistic. The supply crisis may worsen as a result of a lack of reforms, which would hold economic activity back in some countries. Many have domestic macroeconomic weaknesses that leave them vulnerable to shocks; fiscal and current account deficits are sizeable and debt levels are rising.
If these conditions were to deteriorate significantly, shocks could manifest in currency pressures, higher inflation and lower business confidence. Externally, there are major risks to the forecast. A further decline in oil prices would sharply reduce government spending in oil-producing countries.
A sharper-than-expected slowdown in China could result in renewed weakening in commodity prices, which would delay further or lead to a cancellation of planned investments in resource sectors. A sudden deterioration in global liquidity conditions could push up financing costs and result in cut-offs of capital flows.
Policy challenges
The global economic environment will be less conducive to growth in sub-Saharan Africa over the next few years than in the recent past. Lower commodity prices and tightening global financial conditions will hinder activity. In most commodity exporters, thin buffers limit the scope for counter-cyclical policies to support economic activity without exacerbating existing fiscal and external vulnerabilities.
Policies are needed to respond to growing vulnerabilities, address domestic constraints to activity, and promote non-commodity sources of growth. Structural reforms are needed to alleviate domestic impediments to growth and accelerate economic diversification. Creating the conditions for a more competitive manufacturing sector would require major improvement in providing electricity.
Addressing power sector problems should therefore be a priority. Investments in new energy capacity in South Africa, attention to drought and its effects on hydropower in Botswana and Zambia, and a new focus on encouraging private investment in Ghana and Nigeria would help build resilience in the power sector.
More and more of the world's poor live in sub-Saharan Africa. Reviving growth and reducing vulnerabilities will help to eradicate poverty here and achieve the UN's Sustainable Development Goals. Policies to enhance domestic revenue mobilisation, increase the efficiency of public spending and boost growth will play a critical role in these efforts. – Denene Erasmus
This in an edited excerpt from the World Bank Group's January 2016 Global Economic Prospects: Spillovers amid
Weak Growth report. To read the full report, visit www.worldbank.org/gep.