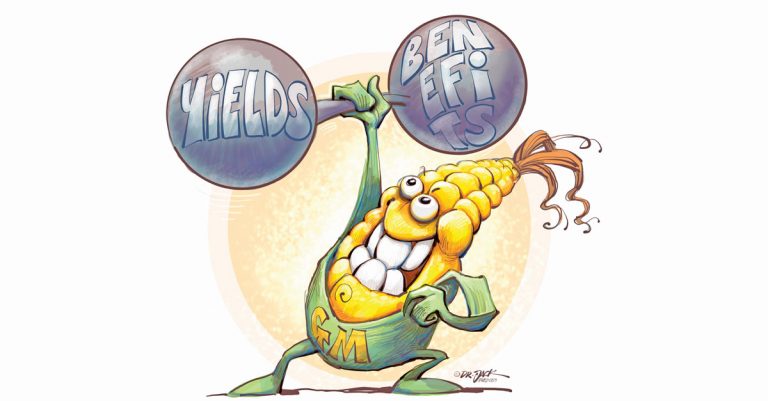 White maize serves as the staple food for the majority of South Africa's population, particularly those in low-income households. It is also one of the only staple crops produced on a widespread commercial basis for direct human consumption using genetically modified (GM) cultivars.
Notwithstanding this, controversy surrounds human consumption of GM crops and the effects of these crops on the ecosystem. This is exacerbated by the lack of empirical evidence based on local data.
Recent evidence from a study conducted by a team of agricultural economists and engineers from South Africa, the US and Belgium suggests that GM adoption has, in fact, contributed to a greater supply of maize, increased producer profitability, and a decrease in the environmental impact of maize production.
Kristiina Ala-Kokko, a researcher at the University of Arkansas in the US, sought to answer the question, how has GM maize adoption affected South African consumers, producers and ecosystems?
Production and welfare gains
Ala-Kokko's study, completed in 2021 with the aid of fellow researchers, estimated the economic and environmental impacts of GM maize adoption from 2001 to 2018 using data from the national maize cultivar trials conducted by the Agricultural Research Council's Grain Crops Institute (ARC-GC).
The research provides unique insights on GM white maize adoption in South Africa, which is the only direct fieldto-plate crop in South Africa produced on a widespread commercial basis using GM seed.
The study established that in 2018, the adoption of GM white maize resulted in the production of an additional 610 744t of white maize.
Moreover, its adoption contributed to a high of 7,4 million additional annual rations in 2017 against a low of 29 215 rations in 2001. (GM maize was introduced in South Africa in 2001, and by 2017 accounted for 85% of the total area planted to the crop in the country.) To put the 2017 results in perspective, the study estimates that GM white maize adoption provided additional annual maize rations for 12,6% of the South African population.
The study further estimates that welfare gains attributed to GM white maize adoption for the period 2001 to 2018 amounted to US$694,7 million (about R9,2 billion*).
Environmental and profitability gains
Using life cycle assessment, the study also found that GM adoption mitigated the environmental damage associated with maize production.
According to the study, 1ha of conventional maize production resulted in environmental damage worth US$9,11 (R120,70), compared with US$8,77 (R116,20) under 1ha of GM maize production. GM white maize adoption has resulted in environmental benefits valued at US$5,3 million (R70,23 million) for the period 2001 to 2018.
Examining producer profitability in the Free State and North West, the researchers found that Bt maize adopters in these provinces made a profit more frequently than their conventional counterparts. (Bt maize is modified to contain the Bacillus thuringiensis soil bacterium that is lethal to various types of insects.)
They also found that Bt adopters in the Free State, but not North West, had higher relative profit margins.
A related study by Aaron Shew et al (2021) estimated GM white maize yield premiums at provincial level using a multivariate regression model. It found that estimated yield gains ranged from a low of 0,37t/ha in North West to a high of 0,986t/ ha in Gauteng.
In the Free State, the estimated yield gain was 0,591t/ha. Overall, the researchers found that GM white maize and GM yellow maize had yields of 0,6t/ha and 0,27t/ha higher respectively than yields of conventional maize in South Africa.
Additional benefits
These recent findings build on previous work on the topic. Marnus Gouse et al (2012) focused on the impacts of GM maize adoption among smallholder producers in South Africa.
The study found that between 2002 and 2008, Bt maize yielded an average of 12% more grain than conventional maize in the Hlabisa district of KwaZulu-Natal.
In another study, Gouse et al (2016) investigated the impacts of GM adoption among women and men smallholder producers in KwaZulu- Natal. Their results indicated that women in households adopting herbicide-tolerant maize had 10 to 12 fewer weeding days than their Bt or conventional maize-producing counterparts.
The favourable yields, economic gains, producer profitability, and ecosystem benefits associated with GM white maize adoption suggest that agricultural technologies such as GM may be a salient way to meet the growing demand for food, while simultaneously reducing the environmental impact of agricultural production in South Africa.
The views expressed in our weekly opinion piece do not necessarily reflect those of Farmer's Weekly.
*The average exchange rate for 2018 of R13,25 to US$1 was used for the currency conversions.
This article was written by Dr Petronella Chaminuka, principal economist in economic analysis at the Agricultural Research Council, and provides an analysis of a study undertaken by Chaminuka, Kristiina Ala-Kokko, and fellow researchers. For more information email Dr Chaminuka at [email protected].