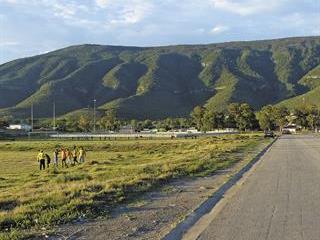 "If you don't go to the cave tonight, tomorrow I won't show it to you. I just want to get my tobacco.'' This was John Kepe's demand minutes after his arrest on the grassland plateau above the Boschberg on the night of 24 February 1952.
Keen to unravel the mystery of how Kepe had managed to evade justice for 12 long years, Sergeant (Sgt) JP Botha relented, despite the obvious risks.
Handcuffed, with a rope tied around his neck, Kepe led the police into the misty night to the cave on the slopes of the Boschberg Mountain where he had resided for more than a decade.
It was here, from this secluded natural shelter, that Kepe had terrorised and fraternised with the broader Somerset East community, and it was only after the brutal murder of farmworker, Dirk Goliath, in late 1951, that Kepe was apprehended.
He was hanged in Pretoria Central Prison on 25 June 1952.

Heading for somerset east
Present on the night of Kepe's arrest was Sgt Christiaan Potgieter, who lay in wait on the farm Ongegund. When informed about the arrest of the Boschberg's illusive thief and murderer, Potgieter excitedly fired shots into the night sky.
However, nothing could have prepared him for later that evening when he met the evasive criminal and recognised him as John Kepe, a man whom he had arrested on three separate occasions while stationed in the Graaff-Reinet district.
"Goodnight, Baas Christiaan,'' Kepe said to Potgieter. "Do you remember me?" Potgieter had arrested Kepe for theft and housebreaking in 1921, 1927 and 1933. The 1933 arrest near Pearston, a tense affair that involved the firing of four shots and an attempted axe attack by Kepe, had resulted in a seven-year jail sentence.
When eventually released in 1940, Kepe headed for Somerset East and a cave he had discovered on the Boschberg more than 20 years earlier. After his final arrest in 1952, Kepe explained to Potgieter that he had discovered the cave by chance in 1918, when his dog had disappeared through a narrow crevice.
Scrambling after his dog, Kepe came upon a relatively spacious cave, complete with trickling fountain, which he kept in mind as a potential hideout for desperate times in the future.
By late 1940, Potgieter was transferred to Somerset East, where he was immediately confronted with a string of shop burglaries in the Cookhouse, Kommadagga and Longhope areas, as well as the illegal slaughter of sheep on the Boschberg, and other random incidents of theft.
These crimes continued for years, and although suspects were apprehended, it was clear that somebody was managing to evade arrest. By 1950 and 1951, police were receiving roughly one call per week from Boschberg farmers reporting stock theft and house burglaries.
By now, Kepe was at the height of his criminal prowess and began leaving mocking notes, taking care never to reveal his identity to the police.
The cave
Bill Brown, from the farm Glen Avon at the foot of the Boschberg, says that nobody made the connection between the man who visited the town and the man who lived in the cave.
"In fact, many people did not know who Kepe was until he was arrested.'' The cave is hidden from passers-by, and Kepe, who had spent significant time in Somerset East either stealing or socialising with locals, never let slip where he lived.
"There's running water inside, and once you're in there at night, you could make a fire and nobody would see anything,'' says Bill.
Inside the cave, a torch is needed to reveal the interior in which Kepe had stored stolen goods, including cooking utensils, supplies and clothes. After his arrest, Kepe revealed two other caves he had utilised, which had remained undiscovered by anyone prior to his capture.
One cave Kepe called his "icebox'', which was fitted with wire for hanging and curing meat, while the other was used to store more than 100 sheepskins.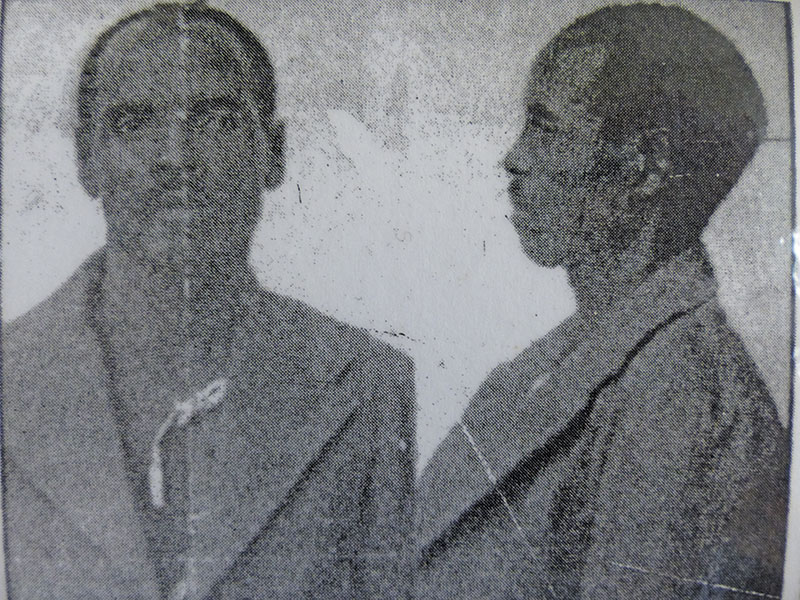 A police photograph of Kepe before his execution in Pretoria Central Prison in 1952.
Courtesy of The Somerset Budget
Social life
It was the relative comfort of the cave that allowed Kepe to be a permanent, yet secret, social feature in the area. When community members went home, Kepe climbed the Boschberg to his cave from where he could watch the twinkling lights of the homes below.
Boyce Pike, local Xhosa writer and poet, who was a child at the time of Kepe's arrest, says that many Somerset East residents were surprised that Kepe was the wanted notorious thief and murderer.
A regular patron at the communal drinking hall, Kepe had socialised intimately with many community members. It was no surprise then that a large crowd of curious onlookers gathered when Kepe arrived at the magistrate's court in a truck filled with "his'' stolen goods in late February 1952.
After willingly confessing to the magistrate, Kepe promptly addressed the throng of onlookers. "I am the Samson of the Boschberg,'' he said. "When the Philistines caught Samson, all the other Philistines came out to look at him just as you are doing today.''
According to Pike, Kepe's name, as written in trial transcripts and in Potgieter's accounts, is misspelt. In fact, he says, Kepe should be spelt with a 'b', as in 'Kebe'. However, many Xhosas simply knew him by his clan name, Mpinga.
Pike adds that Kepe was adored by many black people as he was said to have demonstrated Robin Hood-like tendencies, including the sharing of stolen sugar and meat with poor black and coloured families. Furthermore, Pike explains that Xhosa and coloured people saw Kepe as a symbol of resistance to racial discrimination, and thus a hero of sorts.
"Everybody loved John Kepe,'' says Pike. "He was a kind of political hero who molested whites and didn't harm any blacks.''
Kepe had a particular impact on children, especially those living along the foot of the Boschberg. An elderly Somerset East lady, who refused to be named or photographed, lived on MacKay Street as a child.
She says that Kepe would surreptitiously assist her and other children with their chores, like collecting the milking cows from the Boschberg municipal ground, or by leaving them neatly packed heaps of firewood.
"We laughed and thought it may be Mpinga who helped us,'' she recalls. "But we were afraid to be out late because we didn't know what he would do to us.''
She adds that Kepe sometimes slept in their gardens, and never failed to leave them something. "Sometimes he would sleep under the tree in our yard and when we awoke there were tins of jam and sweets."
According to Bill, the fascination with the Boschberg cave dweller was not confined only to the town, and he recalls how he and the Xhosa kids on Glen Avon used to tease each other about Kepe, whom they simply knew as Dooi Donner.
"I grew up as a child knowing Kepe as Dooi Donner. We'd scare each other as children and say Dooi Donner would get you.''
Murder
Philip Erasmus from the farm, Charlton, on top of the Boschberg, says that Kepe may have evaded arrest for many more years if he had simply continued to pilfer sheep.
"He [Kepe] helped himself and was a potslagter [one who slaughters for consumption only],'' he says. "But then he murdered someone.''
It was Philip's father, Dix, who had contacted the police after Dirk Goliath, a farmworker, failed to return home on 14 December 1951. Goliath's wife had informed Dix that she had encountered a peculiar man who, handing her a box of matches, assured her that her husband was not dead.
Of further concern was that, in late November 1951, Goliath's home had been burgled, and he had allegedly encountered a man brandishing a .22 rifle, who claimed that he was a police officer searching for the Boschberg thief.
A search for Goliath was immediately launched, and it was not long thereafter that, above Rooikrans, in sight of Somerset East, Goliath was found. He had been stabbed, and his throat slashed.
The discovery of the murdered Goliath resulted in no fewer than 70 men, including an armed group from Glen Avon, scouring the mountain and its surroundings on 15 December 1951. However, nobody was apprehended, even after the theft of potatoes on the farm, Ongegund, and the burglary of the farmhouse.
As the months passed, the criminal activity continued. It included the slaughter of one of George Botha's sheep on 22 February 1952. However, despite police presence on the Boschberg, no arrests were made.
Capture
Kepe's brazen criminality was now an embarrassment for the police, and on the night of 25 February, Sergeants Botha and Potgieter, as well as four constables, headed for the Boschberg again.
It was raining, and a tractor was needed to cross several swollen streams on the drenched plateau on top of the mountain. As salt was an important ingredient for Kepe in the curing of mutton, Botha and Constable Mafukuzele settled down near a salt shed on the farm, Grootfontein.
Perhaps it was Kepe's lust for salt, coupled with the belief that the police would not search for him on such a dreadful night, which led Kepe into the company of the waiting officers. When Kepe saw Botha, he lunged at him with the same sword stick he had used to murder Goliath.
However, the experienced sergeant, with his firearm drawn, warned Kepe that he would not hesitate to shoot, and Kepe was arrested.
On 19 March 1952, Kepe's trial began in Cradock. By 22 April, the court had determined his sentence, and Kepe was allowed to address the packed courtroom. "If these people are without sin,'' he said, pointing to the jury, "then they can hang me.''
Minutes later, Kepe was sentenced to death. As he was led away, Kepe politely greeted Sgt Potgieter. Two months later, he asked to see Potgieter for a final time. This meeting, shortly before Kepe's execution, was the last time Kepe met with anyone outside of prison.
According to Ros Turner, tourism officer at Blue Crane Tourism in Somerset East, Potgieter never discussed the details of his final meeting with Kepe.
Today, the Boschberg remains largely unchanged from the time it was once ruled by Kepe, and it would be fair to say that Somerset East's most infamous criminal is woven into the town's historical tapestry.
Although Kepe was executed in Pretoria, his name will remain synonymous with the Boschberg towering over Somerset East.
Sources: John Kepe by Sergeant Potgieter; The Somerset Budget; www.somerseteast.co.za, and various documents from the Somerset East Museum.
Farmer's Weekly has chosen to use the name 'Kepe', as it is the name that appears in the writings of Sgt Potgieter.
Phone Blue Crane Tourism on 042 243 1448, or email

[email protected]

.