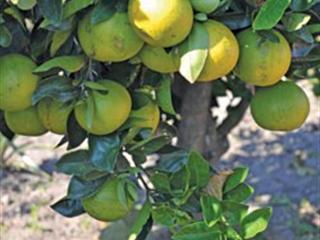 "When I arrived here, there were only six trees planted on the land. I wanted to go to another place and look for a job."
This was the despair felt by Andile Sontlaba in 2005 when he arrived in Hluleka village, two hours's drive from Mthatha, to take possession of his land from the local headman.
Today his outlook and future have both changed completely, thanks to a fruit tree planting programme overseen by the Agricultural Research Council (ARC) and the rural development non-profit organisation Is'Baya Development Trust. Andile now has more than 70 fruit trees on his 0,5ha plot, which lies on a south-west-facing slope in the village. Launched in 2000, the programme has to date sold fruit trees to 5 000 households in 52 villages.
"We've encouraged everyone to plant trees, even if it is just to get households to eat better," explains Rosemary du Preez, researcher at the ARC's Institute for Tropical and Subtropical Crops in Nelspruit. Rosemary, who is one of the main driving forces behind the project and travels frequently to the Eastern Cape, says that the institute was approached by Is'Baya in 2000 to conduct a feasibility study.
"It wanted to know what would grow in the area," she says. "We had to take the climate into account, but because there aren't many weather stations in the area, we had to rely on other ways to determine which species would do well here."
The institute took note of the species of trees already growing in the vicinity, such as mango, and deduced that the area was not prone to winter frost.
Pandelani Nefolovhodwe, co-operative development director at Is'Baya and a former member of parliament, says that the first trees were planted in 2001 and no fewer than 100 000 have been planted since then. Sourced by the ARC from nurseries in Mpumalanga, KwaZulu-Natal and the western regions of the Eastern Cape, they include citrus, mango, avocado, guava, papaya, banana and litchi trees.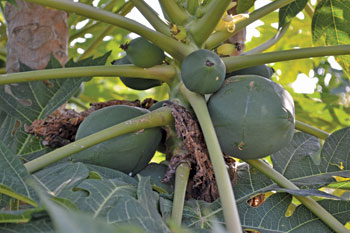 Andile Sontlaba, a farmer in Hluleka village. has planted papaya on his land.
All the trees, except the citrus, are from cultivars scientifically developed by the ARC to ensure maximum hardiness and yield. Citrus trees, according to provincial restrictions, have to be locally sourced cultivars to ensure that no diseases are introduced into the area.
Creating value
The trees are sold at a nominal charge to the households, with citrus going for R12 each and banana for R7. The reason for insisting on payment, explains Pandelani, is to create true ownership – in contrast with the patronage mentality of government. "Government works from the point of view of giving to people," he says. "They kill farmers' creativity in that way. When you give things to farmers for nothing, you don't encourage ownership. If a farmer pays for a tree and it dies, he thinks, 'my tree died' and not 'the government's tree died'."
Dr Shadrack Moephuli, CEO of the ARC, is confident that the project will encourage farmers to aim as high as possible.
"In South Asia, farmers receive 1ha and produce fruit that ends up on shelves in Europe. They also plant vegetables in-between the trees to feed their households," he says. In addition to being sold fruit trees, smallholders also receive training in caring for them.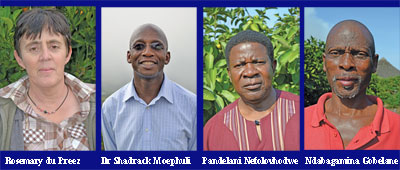 "We teach them, for example, how to plant and prune the trees," explains Rosemary. "And we do this in the orchards. It doesn't work to take the farmers to town halls and train them there." Several of the smallholders who received trees initially have since added more to their orchards. These are referred to as 'lead farmers' by the researchers. "There are 624 lead farmers," says Rosemary. "We do more intensive training with them. For example, we spend a whole day with a farmer to teach him how to prune trees."
One such farmer is Ndabagamina Gobelane in Hluleka. He keeps records of when trees are planted, the amount of fruit harvested and the number of trees on his plot. He also plants pineapples in-between orchard rows to maximise use of space. Rosemary explains that the project was not implemented in all 52 villages simultaneously, but the news spread through the grapevine. As the years have gone by, the villagers have begun to organise themselves and take their developmental needs into their own hands.
"Each village has two committees," she explains. "The first is a community development committee in which all the households participate. This purchases trees on behalf of farmers and distributes them accordingly. The second is a committee representing the lead farmers, who will eventually form a co-operative." She explains that she would like to see the villagers, through committees, discussing and tackling other issues that affect their lives, such as education and health.
"It would be wonderful to see villagers taking ownership of these problems in the same way that many of them have taken ownership of the fruit tree project," she says.
Laying the foundations of development
Market access and off-take of produce grown on rural communal smallholding farms are problematic due to distances from main centres, poor roads and other factors. To counter this, small-scale farmers are looking to the co-operative model. According to ARC researcher Rosemary du Preez, it is hoped that 624 'lead farmers' in the council's fruit tree programme will form co-operatives and become the backbone of a rural agricultural development drive. The registration of co-operatives is almost complete in 30 villages.
The rural development non-profit organisation Is'Baya Development Trust, the German Co-operative and Raiffeisen Confederation teach co-operative management and governance to local farmers. "The teaching modules are in isiXhosa and aim at helping farmers to start co-operatives," says Rosemary.
"Training of governance issues in co-operatives is completed and they are now training in business management." Currently, most of the farmers supply their local villages with the off-take of their fruit trees, whether as processed products, such as jam, or fresh produce.
Drawing youngsters into agriculture
Agriculture as a career is not marketed properly. This is according to Pandelani Nefolovhodwe, co-operative development director at non-profit organisation Is'Baya Development Trust. "Youngsters only see ploughing and planting and looking after cattle when they think about agriculture. Agricultural research, for example, is not marketed," he explains.
Pandelani says there is a notion among young South Africans that one cannot earn a good living from agriculture. "Rural youngsters want to go to Mthatha, East London, Cape Town or Johannesburg to make money," he adds. In the Eastern Cape, however, the ARC fruit tree planting programme is helping to change perceptions.
"When we started, young people didn't want to get involved and weren't interested," says ARC researcher Rosemary du Preez. "They saw agriculture as merely subsistence living, and believed there was no future in it." Thanks to the success of the project, local youths have begun to change their minds. "Youngsters are seeing that ambitious subsistence farmers have upscaled their smallholdings by planting more trees and are starting to make reasonable money," she says.
Understanding a community
The ARC fruit tree planting project, which centred on 52 villages on communal land and distributed 100 000 fruit trees in two district municipalities in the Eastern Cape, required buy-in from local traditional leaders. "The chiefs' disposition was good from the start," says ARC researcher Rosemary du Preez, ascribing this to preparatory work done by rural development non-profit organisation Is'Baya Development Trust. "Is'Baya knew the protocol of the traditional leaders."
This is confirmed by Pandelani Nefolovhodwe of Is'Baya Development Trust, who emphasises that every community has its own way of doing things. He adds that approaches to development which depend on government are doomed to fail.
"If you want to go through government, you won't reach the community. We first go to the community," he says.
Jaco Visser attended the project in the Eastern Cape as a guest of the ARC.
Contact Rosemary du Preez on 013 753 7000.
Contact Pandelani Nefolovhodwe on 011 865 2305.
See page 48 for the success story of two farmers who benefitted from the fruit tree project.