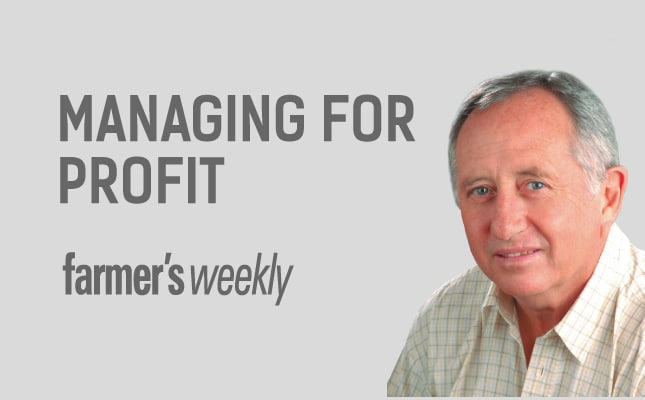 For the past few months, we have been fighting over the TV remote at home. What with the Springboks' outbound tour, the ATP and Davis Cup tennis finals, and the Africa Cup of Nations, it has been a sports bonanza. And at last, Bafana Bafana seem able to bring some hope to South African football. Talking of rugby and soccer, I have to be honest: I still much prefer the former. The main reason is that it's far more of a team game, and in this respect is much more like the real world.
READ:Securing a market for your chickens
A place for all in the team
In soccer, individual brilliance will take you far. In rugby, no matter how brilliant you are, you will never enjoy great success unless you are part of an excellent team. In addition, if you're stocky and a bit slow off the mark, you've no chance of making the local football team. But rugby has a place for the short and the tall, the heavy and the light, the fast and the slow. Rugby shares these similarities with any organisation or business team. In fact, the game holds many lessons for building and managing a winning team, and astute students of the game have drawn on these principles.
Applying rugby wisdom
This brings us to David Kirk, captain of the All Blacks team that won the Rugby World Cup in 1987. Already a doctor, he retired from competitive rugby at 26 to take up a Rhodes Scholarship at Oxford. On returning to New Zealand, he eschewed medicine and worked as a management consultant at the world-renowned McKinsey & Company.
From 2005 to 2008, he was CEO of Fairfax Media, a leading publisher in Australia. Since then, he has gone on to build a successful investment management business. Kirk also serves on the boards of a number of leading New Zealand and Australian companies.
Mark of the best
Writing about his rugby career and the management lessons he has learnt, Kirk highlights three characteristics that are the mark of world-class teams everywhere:
They make very few mistakes. In rugby, this means knock-ons, being offside, holding onto the ball on the ground, and so on. In business, it can mean errors in production and poor planning, amongst many other things.
They thrash their opponents. On 22 November, the All Blacks scored four tries in 13 devastating minutes and beat Wales 34 to 16. In business, winning companies aim to be number one at what they do.
They have great fun while playing or working.
Qualities of greatness
Kirk also identifies five 'qualities of greatness':
Vision: Without vision, no team ever made it to the top. 'Vision' is not a set of 'objectives', says Kirk. Objectives are cold, rational targets that are quantified, defined and measured. Vision is distant; it is rational, but also emotional in that it excites, engages and even frightens. And to bring drive and direction to the team it must be big!
Ability: Great teams need great players, but not all players in a world-class team are world-class. Nevertheless, it is essential that each team member masters the skills needed for the particular job. Inborn talent is obviously key to outstanding ability, but we all know people who have risen far beyond their natural ability through tenacious and energetic self-improvement. In sport, this involves hours of practice; in business, it's intensive study. But Kirk notes that while individual ability is crucial, there is also a great need for team members to be capable 'generalists', who are able to turn their hand to many of the other jobs in the organisation.
Divine discontent: This enormously empowering attitude means that team members are never entirely satisfied with the status quo. But they do not become dispirited. Instead, they cheerfully seek better ways of doing things or find new marketing opportunities.
Discipline: Discipline should not focus primarily on rules and punishment, but on the boundaries of what is acceptable and what is not. A crucial point to remember about building discipline is that it is frequently the small things that count: dress code and punctuality are good examples. If these factors are ignored, discipline breaks down in more important areas.
Politics: Kirk uses this term to describe the management of interpersonal relationships. All teams comprise a variety of personalities, backgrounds and outlooks. It is always a tricky task to keep relationships intact, but members of great teams understand this and quickly overcome any obstacles.
What about your team? Does it have the qualities to be world-class?
This article was originally published in the 16 January 2015 issue of Farmer's Weekly.