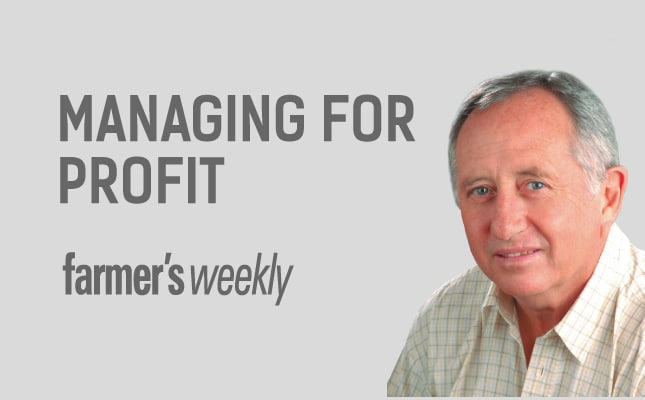 Farming in South Africa is a dog's life. As Max du Preez has observed, we have the worst president imaginable. He could have said the same about the whole government. What a mess. The two most important primary industries in the country, food production and mining, have to deal with hostility and incompetence at all levels. All government offers is criticism, threats and laws, making business life more and more difficult. When it does step in to keep the peace, it does it Marikana-style and makes matters infinitely worse.
Breaking news from the World Economic Forum's latest Global Competitiveness Report is that there are only four countries with an education system worse that SA – Haiti, Libya, Burundi and Yemen. We come 140 out of 144, with Zimbabwe at 30!
Farms are ravaged by crime. Land reform results in productive land being reduced to rubble.
Dairy farmers slaughter their herds because of low milk prices and cheap poultry imports threaten our broiler industry. Fires have destroyed huge tracts of land in the Free State, Northern Cape and Mpumalanga, and predators and criminals play havoc with livestock herds. Then there's the fracking threat of shale-gas exploitation and water pollution in the Karoo.
After my articles on how farmers should harness the power of the social media, an irate farmer from Indwe in the Eastern Cape called, saying that it made sense, but their mobile and ADSL service is almost non-existent, while regular power outages mean it's difficult to recharge phones and operate computers. What's more, the roads are so bad delivery vehicles refuse to come to the farm.
Perspective
Eish! Life is really tough for farm managers. Maybe the time has come to pack it up. But then again… when you see the problems other people have, maybe it's not so bad. Take world champion swimmer HE Junquan. He was born with no arms, but swims the 50m backstroke faster than most competitive able-bodied swimmers. At the start, he hangs onto the side with his teeth and hits the edge of the pool with his head to stop the chronometer at the finish.
During the 2008 Paralympic Games, Will Swanton of the Sydney Morning Herald wrote: "HE Junquan was leading. As he approached the wall, every person in the stadium was on their feet, and as he came up to the finish he slowed down a fraction to lessen the impact of his head on the wall, and Brazilian Daniel Dias hit the wall first with an outstretched hand.
"You've never heard a silence like that. Presented with his silver medal and flowers at the presentation ceremony, he put the flowers between his teeth and bowed."
Dias himself is a legend. He was born with malformed upper and lower limbs and began swimming at 16. In the 2008 Paralympics he won nine medals, more than any other athlete. And he won a further four gold medals and set three world records and one Paralympic record at the 2012 Summer Paralympics in London.
Setting records
What about our own Natalie du Toit? As a teenager she was setting swimming records, but in 2001 she lost her leg in a road accident. But the lure of the pool was too strong, and the rest is history. Natalie du Toit is today one of the world's greatest distance swimmers. Less than two years after the accident, she qualified for the finals of the 800m freestyle at the 2002 Commonwealth Games. She's just won four more medals at the London Paralympics in what she says is her swansong to competitive swimming.
Noble profession
Farming is a noble profession, and I'm proud to play a small part in it. But with the deluge of bad news that assails our lives, my optimism sometimes wavers. The London Paralympics has given me back my perspective. Our worries are similar to fleas on a dog's back when you see the achievements of people with such serious physical impairments. When you see their courage, tenacity and joy in participating, it's a wake-up call.
Wise words
As I watched these amazing feats, often with tears in my eyes, the words Winston Churchill uttered in 1941, during World War Two, echoed in my ears, and it's as if all these Paralympians were taking them to heart: "We shall never give in. Never give in. Never, never, never, never. In nothing, great or small, large or petty, we shall never yield to force; never yield to the apparently overwhelming might of the enemy." There's a lesson for all of us here.
Contact Peter Hughes at [email protected] with 'Managing for profit' in the subject line.
This article was originally published in the 12 October 2012 issue of Farmer's Weekly.