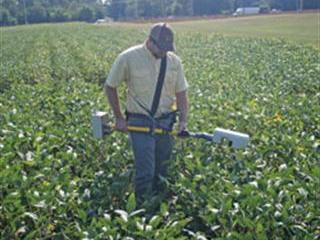 Precision farming involves collecting accurate spatial data on crops, and using this to manage a farming operation more efficiently, and hence more profitably, explains Dr Don Tyler of the Department of Biosystems Engineering and Soil Science at the University of Tennessee. He was in South Africa to address the AGM of the No-Till Club of KwaZulu-Natal.
The technology combines a global positioning system (GPS) receiver with electronic yield monitors, and results in precise yield data across the land. wThis in turn allows a farmer to create yield maps using geographical information systems (GIS). Present and past figures can be compared, and methods can be implemented to improve yield, increase profit and enhance environmental sustainability.
One way of determining why yields vary is to take samples from the land in a 100m x 100m grid pattern to test for nutrient levels, acidity and other factors. The results can then be combined with the yield map to see if application levels need to be adjusted for more effective yet more economical placement that produces higher crop yields. A simpler approach to input management is to divide the field into high-, medium-, and low-yield zones and take a sample from each. This is less time-consuming and costly than grid-sampling, but does not, of course, provide as much detail.
Additional data
Other information that can be used in precision management includes soil survey, elevation and electrical conductivity. This can be combined with yield maps to better understand yield variation and determine the most efficient management strategies. For example, a soil survey map may indicate that a low-yielding area, where it may be difficult to make a profit, has a soil problem that cannot be corrected economically. A decision can then be made to avoid cultivating that area.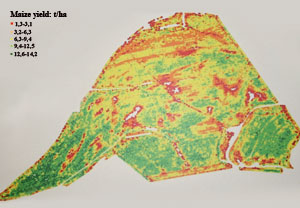 A maize yield map. Red indicates areas of low yield, yellow and orange of intermediate yield and green of high yield.
Real-time Sensing
Precision management can also involve direct sensing and variable adjustment of nutrients and pesticides as the equipment is driven across the land. 'Real-time sensing', as it is called, offers several advantages over modifying applications based on previous information. Whereas the latter technique usually requires costly, time-consuming crop scouting beforehand, real-time sensing performs this task directly before input application.
It detects, among other factors, weed pressure, insect damage and nutrient needs, and this data is used to turn an applicator on and off automatically as the equipment travels across a land. This means that insecticide or herbicide is only sprayed where needed, dramatically lowering costs. Real-time sensing of nutrient needs, especially nitrogen, can be performed with handheld or equipment-mounted sensors and is suitable for either small or large farm applications.
Flexibility
All farms can be managed precisely. Small-scale farmers often have highly detailed knowledge of their lands based on personal observations and could already be modifying their management accordingly. Appropriate technologies here might make this task easier or more efficient. Larger farmers may find the more advanced technologies necessary to collect and properly analyse data for better management decisions.
Regardless of how it is approached, precision farming allows for more profit, better short- and long-term production efficiency, and enhanced environmental quality.
Contact Dr Don Tyler at [email protected].