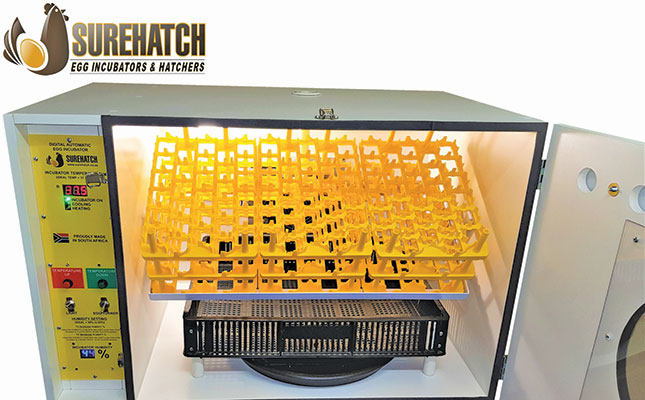 Surehatch incubators: the easiest way to start a chick hatchery business
Hatching and selling day-old chicks can be a highly profitable enterprise, and Surehatch incubators and hatchery equipment make it simple to set up. Earn your first income in three weeks!
The market for chicken, already enormous, is growing steadily. And Surehatch makes it possible for anyone to start a hatchery business.
The company's high quality, reliable incubators and hatchers are designed for small- to medium-scale chick production, an enterprise well-suited to a farmer, who can easily add it to an existing farming operation.
All that is required is a small garage or spare room, a supply of fertile eggs (Surehatch
can provide the names of reliable suppliers), and power.
The incubators produce the chicks; all that is needed is to load eggs and sell chicks!
Affordable
A Surehatch hatchery can be started with as little as R6 000, and money can be earned within three weeks. An incubator hatches chicks weekly, ensuring a regular income. Additional incubators mean more business.
Selling chicks
The chicks can be marketed for free via the Facebook Market place, poultry groups on Facebook and WhatsApp, or on Gumtree, Junkmail or similar services.
Selling day-old chicks is an ideal way to earn money independently. It is also a useful method of investing stokvel funds or other savings while staying in control of the investment.
Surehatch's team can help any entrepreneur start almost immediately. The company's
experts offer comprehensive advice and answer any questions.
Surehatch incubators and hatchery equipment are sold worldwide and can be
delivered almost anywhere.
Technical support is provided to every customer.
Contact Surehatch on WhatsApp, phone 066 221 2663, 071 326 6495 or 064 734 4141, or email [email protected]. Visit surehatch.co.za.
Like Surehatch's Facebook page (Surehatch Egg Incubators), or follow the company on Instagram (@Surehatch) and Twitter (@SurehatchSA). Visit Surehatch at Unit 1, Crystal Rock, Quartz Drive, Kya Sands Business Park, Kya Sands, Gauteng.
Online Competition Terms & Conditions
The competition runs from 21 June to 31 July 2020.
The first correctly completed entry to be drawn will win the prize.
The judges' decision is final and no correspondence will be entered into.
The prize is not transferable and cannot be converted to cash.
Employees of all companies involved, their advertising agencies and immediate families may not enter the competition.
Offer valid for SA residents only.
The winner will be notified telephonically and/or via email.